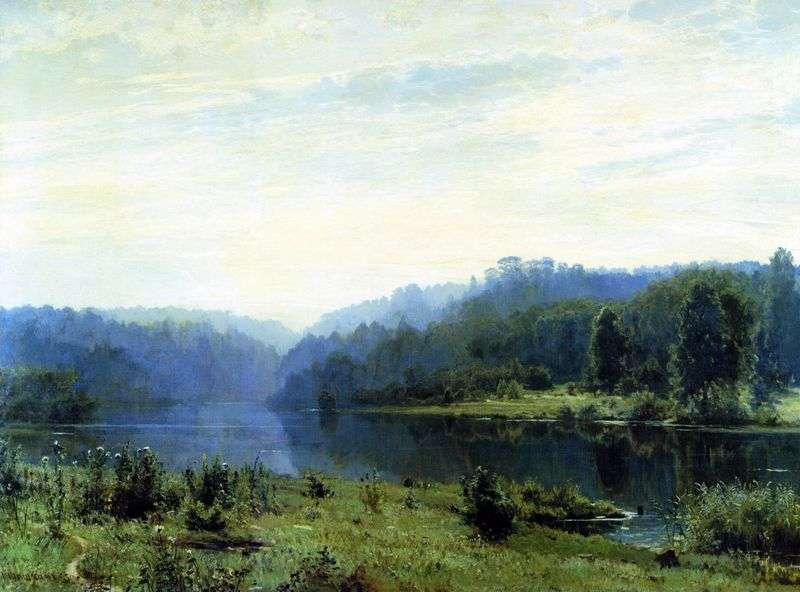 Russian nature is so diverse that it is possible to address this topic again and again, revealing its new facets. Shishkin owns a large number of works, in which he sings the beauty of our fields and meadows, forests and lakes. The author likes the summer nature, which he shows in all its glory.
This picture depicts a peaceful state of nature. The water surface of the river is surrounded by picturesque shores of emerald color. Summer nature is shown by the saturated color range of green tones: from pale green, almost green to saturated green. Also, the artist used shades of silvery color.
Far away, on the horizon, we can admire the morning mist. It spreads over the water of the river. For better perception, the author showed it in a silvery tone. Despite the fact that the fog has not yet dissipated, the sky is slightly illuminated by sunlight, which is evenly distributed and announces the coming of a new day. The mood of the picture is lyrical, nature awakens from sleep, a new day begins.
Thanks to Shishkin's talent, we have the opportunity to admire the amazingly beautiful view of the river bank. It is reflected in the watery river surface, which is shown perfectly smooth, like a mirror. On the left bank of the river the author showed small bushes, wildflowers. Trees in the forest on the opposite bank are very majestic. Windless weather only adds to their power. The forest is very dense and dense. Foliage resembles velvet.
The picture was very poetic, inspired and harmonious. Shishkin tried to convey to us the summer morning, its beauty and uniqueness, because every day is different from each other and irrevocable. The artist is very talented shows the play of light, shades, which help to admire the variety of colors in the picture. No wonder Shishkin is recognized as a master of detail.