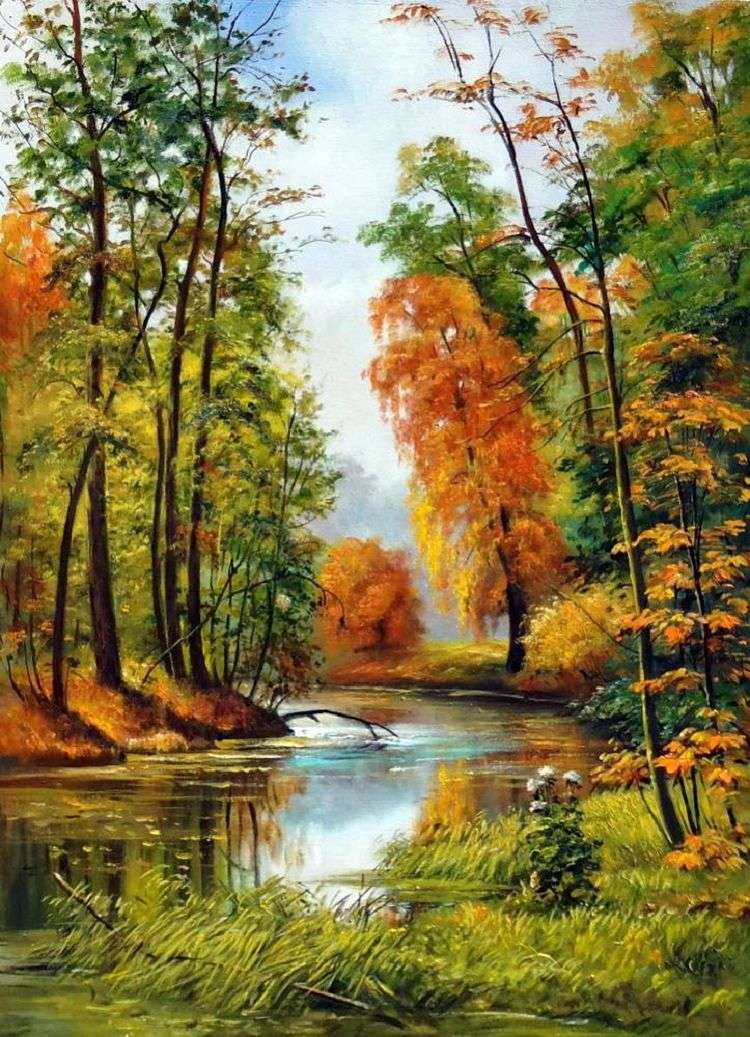 How many-sided is Russian nature! Each time of the year is unique, beautiful in its own way. The change of seasons always brought invariable inspiration to poets and artists alike. They sang in their works the murmur of spring streams, the colors of hot summer, snow-white winter and, of course, scarlet autumn. Moreover, they find and open in it such aspects, which, at first glance, are invisible to us. For a creative person, autumn is not puddles and slush. These are trees, changing their outfit to colorful leaves, it's their rustling under their feet and the special scent of the passing summer.
In this picture we see a small rivulet, in which the trees standing on the shore are reflected. The water surface allows us to admire, like in a mirror, golden leaves. They fall off more and more every day, resembling a colorful carpet, and foreshadow the inevitable change of seasons. With this carpet we can admire and on the shore. It is very unusual, because it was created by Mother Nature herself.
Shishkin applied, in my opinion, a very correct technique, using bright colors. They give the picture a colorful, solemnity. The artist describes the transition from summer to autumn, but he does it very subtly and with talent. Only the dark shades of colors that the author used in the image of water remind us that warm times are behind us. However, this does not spoil the impression of the picture, but, on the contrary, is the right decision.
Shishkin painted the shore also in different shades. On the left side falls a shadow. Here we see only the rare leaves on the trees. The right side, on the contrary, is illuminated by sunlight and surprises with a variety of color palette: from golden to purple. In my opinion, it is always a pity to say goodbye to the warm summer days, but do not forget that every season is beautiful in its own way.