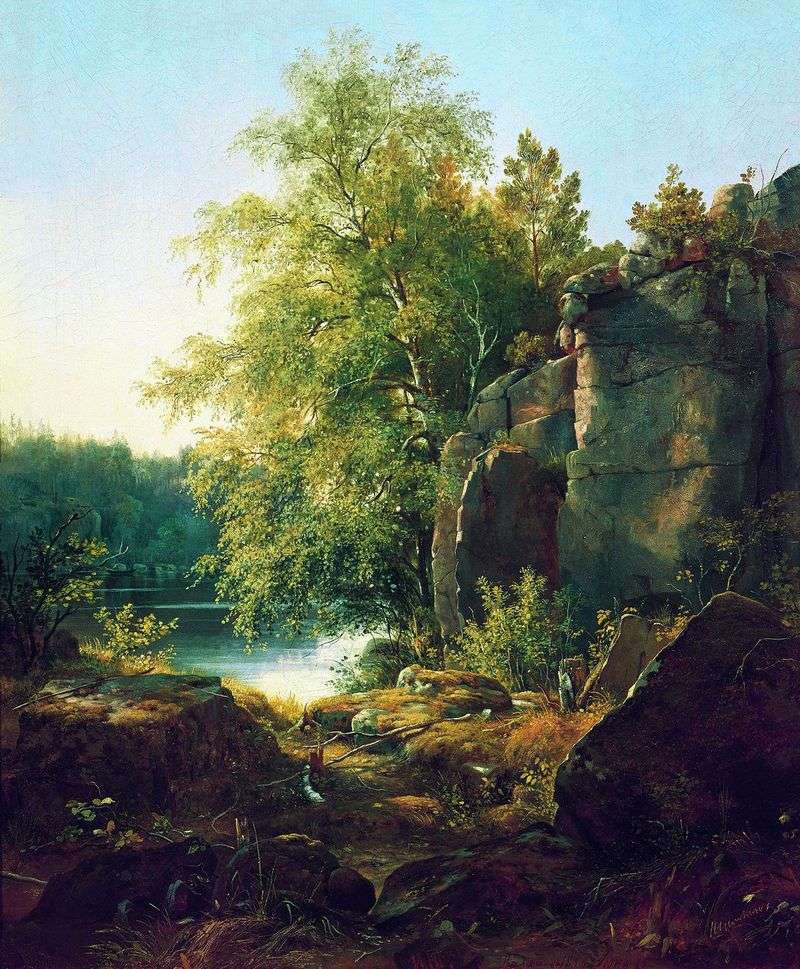 Ivan Ivanovich Shishkin is an academician, professor, painter, landscape painter and this is not all his merits. One of his earliest works is the painting "A View on the Island of Valaam". It was written in 1858 and simply plunged contemporaries into ecstasy. Thanks to this canvas, the Petersburg Academy of Arts awarded the author with a small gold medal.
Ivan Shishkin uneasy draws the nature of the island, he transfers a whole part of his life to the canvas. The beauty of an innocent nature, unaffected by man. Large stone rocks, sprouting trees from under the stones, a quiet current of water and a man's foot that has not stepped anywhere.
In the foreground, the author painted stones covered with moss and grass. To the right is a high rock, on which young trees are visible. They grew on such soil, where, it would seem, there is no life. Cliffs end in large trees. They are like the guards of the territory, they stand in the very center and protect the peace of nature. For the trees the lake disintegrated calmly. It is pure blue and only reflects the sun's rays, making it look even brighter and more beautiful.
In the background of the picture there is a dense forest and it seems that it is impossible to reach it through a wide lake. The sky above the island is light-bright, even, it seems that it is difficult to look at from the reflection of light on it. The sun's rays, brightening the trees, make its leaves golden in color. The whole distance of the picture is just glowing brightness. If it were not for the dark colors of the stones, then the eyes would need time to get used to such brightness.
Looking at the picture, you can see that the author did not paint well, but he admired the beauty of nature. He accurately conveys all forms of nature. It is on this line that you can recognize all subsequent works of the painter. The beauty of the nature of Valaam Island inspired Shishkin so much that he creates several more pictures with her participation. But the canvas "View on the island of Valaam" will be the very first and memorable.