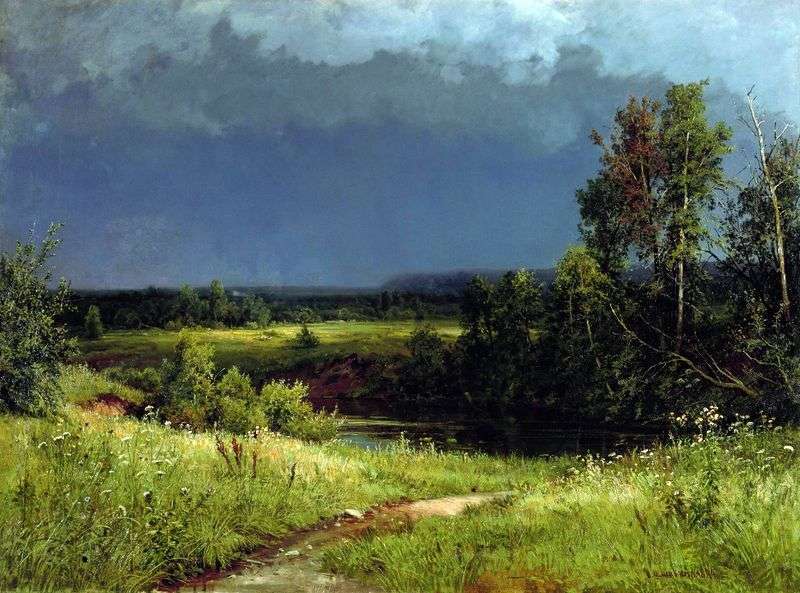 Shishkin is recognized as one of the famous Russian artists of the 19th century, who gained world fame through landscapes. The most famous painting of this artist is "Morning in the Pine Forest", but other works were not undetected. His landscapes seem very realistic to me, as the artist pays a lot of attention to the drawing of various trifles.
In the opinion of critics, it was attention to small details and fragments that brought world fame to the artist. My favorite painting by this artist is a landscape called "Before the Storm", which was painted in 1884. It is believed that at this time the artist was 18 years of travel through his native country. The purpose of the trip was simple and understandable, Shishkin wanted to show through his landscapes all the beauty of his homeland.
Looking at the picture, there may be a feeling of excitement and even anxiety, according to historians this is due to the fact that the foreground of the work is made in light colors. Very brightly drawn by the artist's grass, as well as field flowers, it is these details Shishkin painted in the sun, which pass from one color to another, from lighter and bright, to a darker and cooler. Dark, cold tones just create that atmosphere of anxiety, as if a storm is about to begin. I still really liked how the artist painted the sky, as well as smooth transitions from blue-gray to blue and even dark blue with some blackening in the background.
In general, looking at the picture, it seems that the nature has frozen in anticipation, the smooth surface of the water, the branches of trees that do not move, and the grass that has clung to the ground. Bright colors begin to change to darker colors with the appearance of clouds in the sky. Looking at the picture it seems as if the lightning is now flashing and the thunder is thundering, it will be pouring rain and we will have to look for shelter that would not get wet.