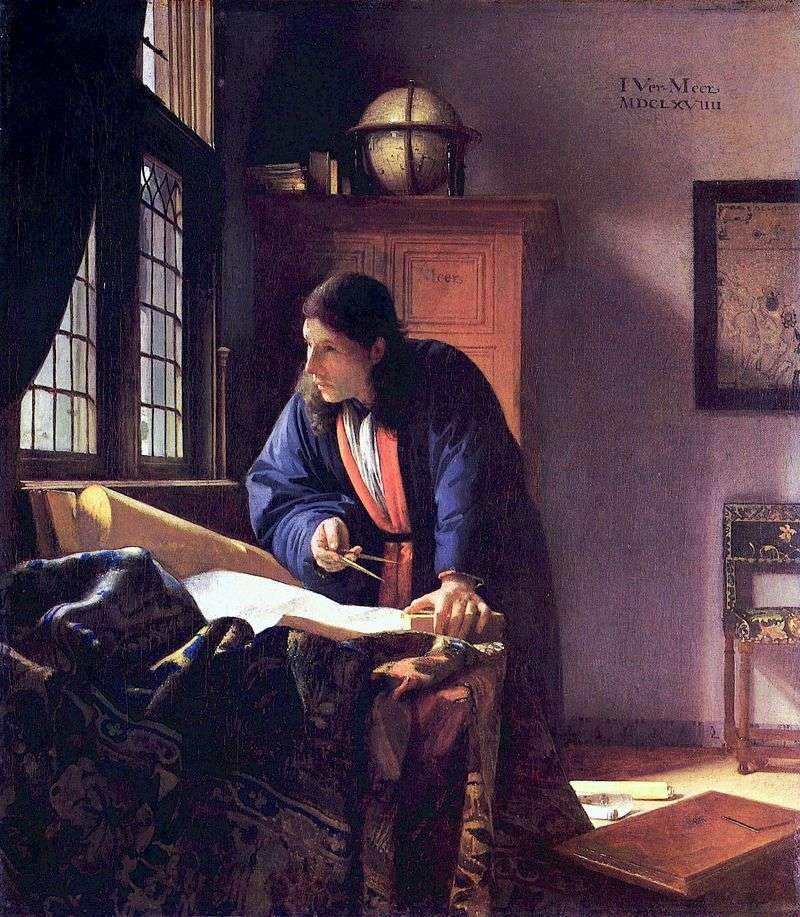 Painting of the Dutch painter Jan Vermeer of Delft "Geographer". The size of the painting is 52 x 46 cm, canvas, oil. In the paintings of the Dutch artist "Astronomer" and "Geographer", there are many features characteristic of the entire work of Vermeer. In particular, natural light from the window on the left side of the picture, a table covered with a carpet, a picture and a map on the back wall.
The artist, no doubt, was familiar with the works of contemporaries, in particular, the masters of the Rembrandt School, who portrayed the learned men. The pose of "Geographer"
is very similar to the image of Faust on the famous eponymous engraving of Rembrandt. But unlike other paintings of the artist, depicting immersed in their affairs and self-sufficient women, this painting shows a learned man engaged in intense mental work. He is dressed in a large mantle – the clothes of scientists of the time. Bending over the parchment navigation map unfolded on the table, he seemed to have raised his head for a moment to make the necessary calculations.
The cirulum, which the geographer holds in his right hand, served to measure distances, another gauger-goniometer-rests on the chair in the right part of the picture. The chair at the back wall is covered with a tapestry with vegetative ornamentation, several folded maps lie on the floor, and the map "Sea Coast of Europe" by William Jans Blau is on the wall. The same closet, depicted in the picture "Astronomer", stands in the same corner at the window. On it are several books and the globe of Iodocus Hondius 1600. His heavenly globe is depicted in the picture "Astronomer". Both pictures most likely depict the same person.
There is an opinion that this is Antony van Leeuwenhoek, known as the inventor of the microscope. He could also be the customer of these pairs of paintings. But some researchers believe that it could be another contemporary of Vermeer – Johannes De Weert, a cartographer who lived in Delft. Anthony van Leeuwenhoek and Jan Vermeer could not help but know each other – Delft was too small for two famous people, two coevals, baptized in the same church and almost on the same day, not bowing to each other on the streets of their native city. Two wonderful Dutch could very well be close friends.
The artist and the scientist clearly had common interests. American researcher Vermeer creativity Arthur Wheelock noted that after 1655, when Antony van Leeuwenhoek was carried away with work with lenses, astronomy and navigation, Vermeer's canvases also featured "methodically reproduced maps and globes." And, apparently, it is not by chance that after the death of the Netherlands artist Jan Vermeer of Delft, it was Antonius van Leeuwenhoek who was appointed executor.