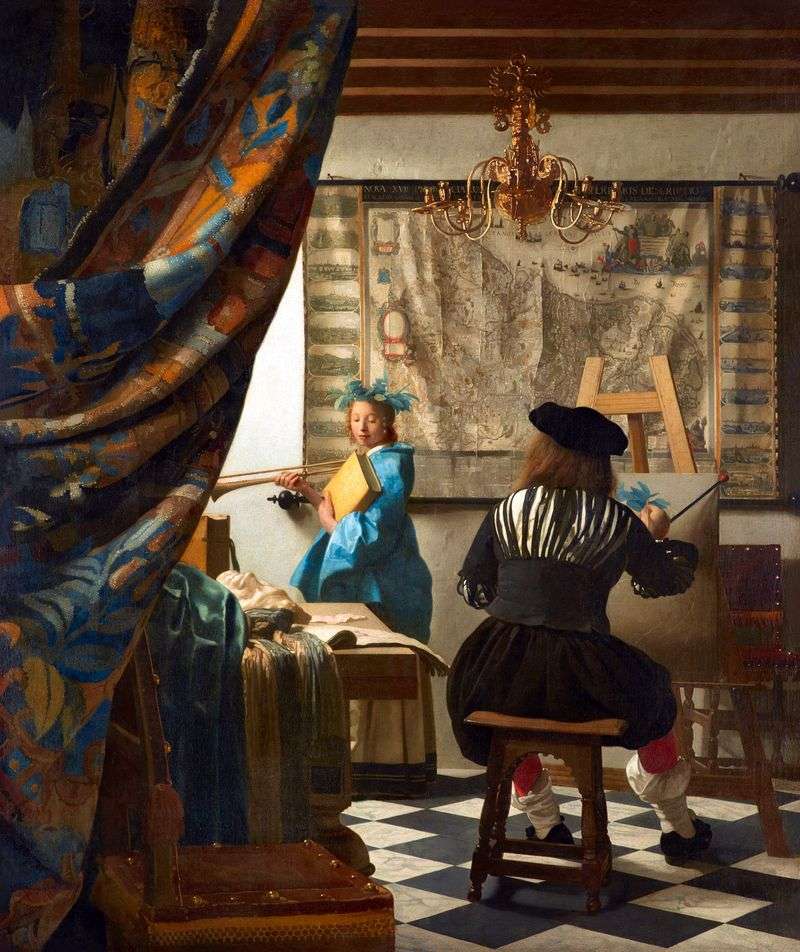 Jan Vermeer Delftsky possessed an extraordinary gift to convey the harmony of the world that is elusive to the indifferent eye. The effulgence of being in his paintings is achieved through a special, so unusual for the Dutch artistic vision, the classic composition and palette. Often, the master uses a kind of point technique, applying the paint with a thin touch of the brush.
"Artist's Workshop" – one of the last works of Vermeer. The painting had several names: "Allegory of Painting", "Art of Painting", "Artist and Model". According to its artistic
concept, the work goes beyond the Holland's image of the artist at work. Compositional construction, the decision of plans and entourage allow to perceive a picture as a symbol of art of the painting, transforming the ordinary reality.
A heavy carpet curtain is raised, and the eyes of the viewer are opened with a shining space; a young Dutch woman, draped in a sparkling blue cloth, depicts the muse of Clio's story; on the wall hangs a map of seven Dutch provinces; the artist himself, depicted from the back, is dressed in a festive outfit. The painting is written with fused smears characteristic for the late handwriting of Vermeer, which will create the finest enamel-like picturesque surface. Coloristic scale is based on bright and saturated colors.