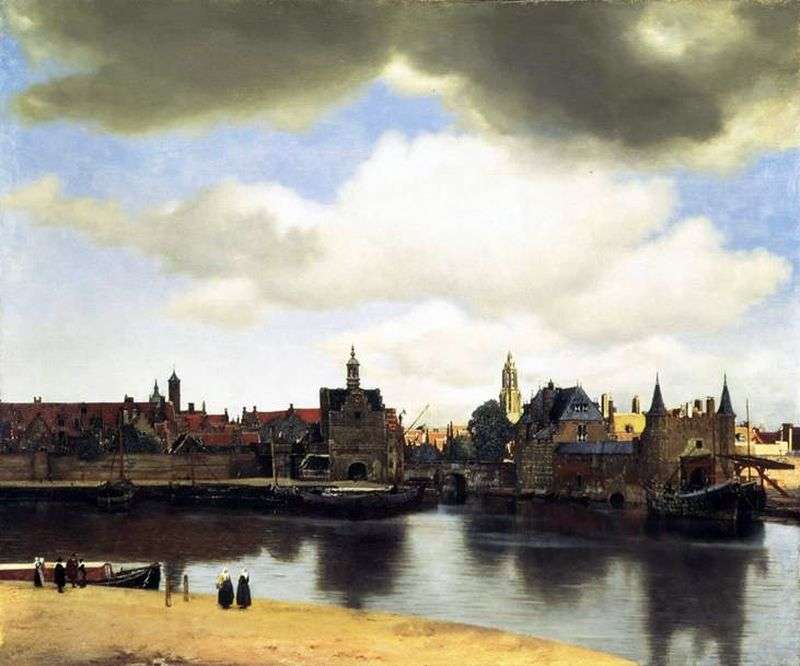 "View of Delft" – One of the more recognizable paintings of the Dutch painter Jan Vermeer, which depicts a native Vermeer Delft. It is one of the largest-sized paintings and one of the 2-his landscapes.
The painting is very true is divided horizontally into four parts: the embankment, water, buildings, sky. At the same time for each of the Vermeer used a special technique. For example, for the transfer of water shine he used the technique of pointillism, and for a stone image granulki mixed uneven colors.
Vermeer showed the city from the south-east of the river channel Schema. Time of action – the morning sun in the east, the clock on the gate show Shidamskih 7 hours. The painting depicts about 15 people.
Comparing this picture with drawings and engravings of other creators, it can be concluded that Vermeer for a harmonic composition changed real Delft kind, namely, the structure in fact were higher and narrower. From left to right are shown: Brewery "Parrot" Ketelskie gate Shidamskie gate tower newest church, Rotterdam Gate. By the time the true did not survive the 1st building, Vermeer depicted, even then both churches were rebuilt, the steeple newest Church after the fire in 1872, was replaced. Remains constant only form of the harbor. Perhaps the painter used a camera obscura.
Proust wrote about this painting by Vermeer, which he beheld in the museum of The Hague on October 18 1902 g. , Original art critic friend JL Voduae: "From the time that I saw in The Hague" View of Delft ", I realized that I beheld the most beautiful picture in the world". In the novel "The Captive," the hero of "In Search of Lost Time" Bergotte dies at the show, admiring the yellow wall in this picture.
In 1696 prince then Veduta was sold for 200 guilders. In 1822 it bought the Mauritshuis for 2900 guilders.