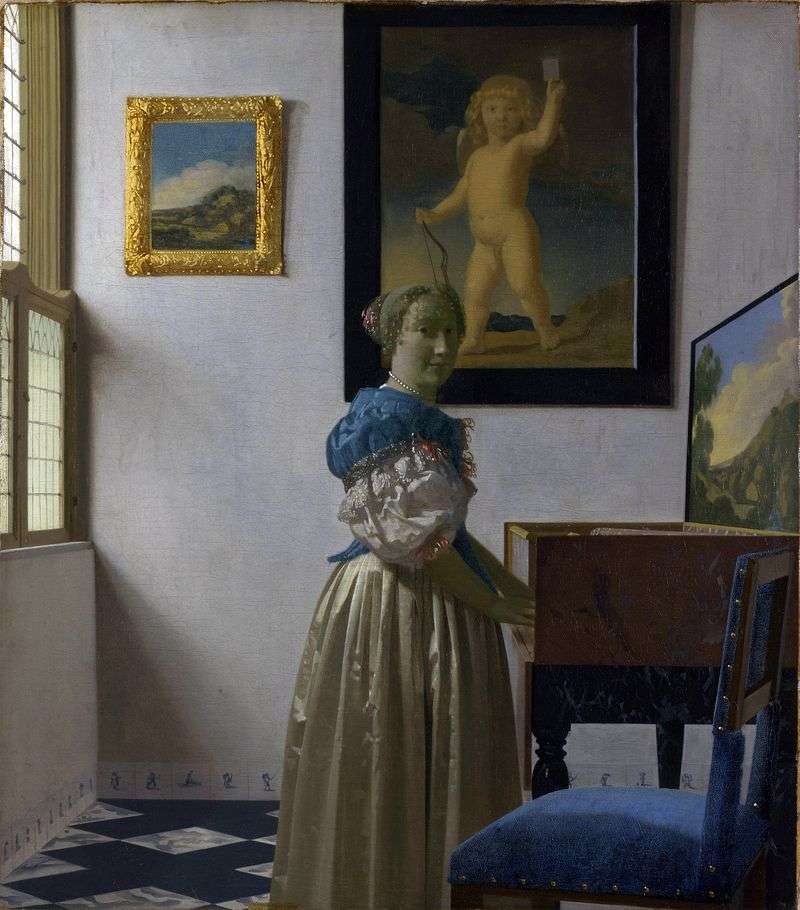 Picture of the Dutch artist Jan Vermeer Delft "Lady at the virgin." The size of the painting is 52 x 45 cm, canvas, oil. This canvas of the Dutch painter is considered a pair of paintings on the style of another work of the artist, located in the collection of the London National Gallery, known as the "Lady of the Spine."
This picture of Vermeer is also known under a somewhat different name, "A Young Woman Standing by a Virgin". On the canvas is an exquisitely dressed lady, playing a virgin in the rich burgher house of Delft. On the walls of the room are paintings, the
floor is covered with marble blue and white tiles, which indicates the apparent prosperity of the owners of the house.
Two paintings on the wall behind the ladies can not be authentically attributed, but probably the small landscape on the left is written either by Jan Weinenths or Allert van Everdingen. The second picture, attributed to Caesar van Everdingen, brother of Allert, depicts a plot with Cupid holding a playing card.
Most likely, the image of the messenger of love Cupid is a symbol of the connection of romantic hobbies and music, the traditional association of music and love. Like most of the works of Vermeer, this picture of the painter is not documented. The dating of the painting was carried out by experts and researchers of Vermeer's creativity on the basis of the style of the painting, as well as the cut of the lady's costume.