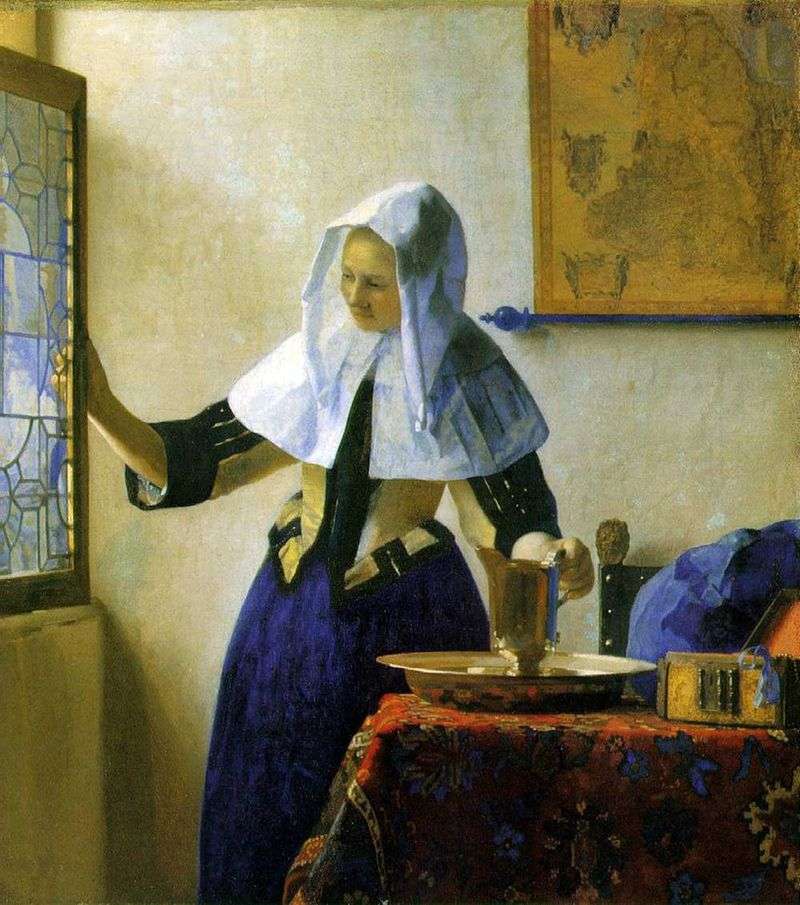 Painting of the Dutch painter Jan Vermeer of Delft "Girl with a Water Pitcher". The size of the picture is 46 x 41 cm, canvas, oil. The painting was donated to the Metropolitan Museum by Henry Morgan in 1889. In the 17th century, Dutch artists used white and black ink to depict shadows, especially shadows on a light surface.
Vermeer Delftsky for the first time in the history of painting for the image of the shadow mixed umber, ultramarine and lead white. After 200 years, the French Impressionists will rediscover this secret of the palette, allowing to give the canvas a feeling of freshness, air
and light. Ultramarine painted girl's skirt with a jug of water, this is the darkest image in the picture.
As in the picture "The Maid with a Jug of Milk", the contour of the skirt is surrounded by a white line, lighter than the color of the wall. On the heroine of the picture "Girl with a jug of water" the same yellow jacket with black braid, as on the canvas "Girl with a letter at the open window." A wide collar and a woman's cap are prescribed by the painter with remarkable thoroughness and skill.
All folds of a thin starched fabric are visible, through it the figure of sleeves and contours of the young woman's hair are shining through. The image is so perfect that if only the painting remained from the artist's entire heritage, Vermeer would still be considered one of the great painters. Writing white on white will be tried 300 years later, but can not surpass the talent of the Dutch artist Jan Vermeer Delftsky, who managed so naturally to convey the lighting and texture of objects.