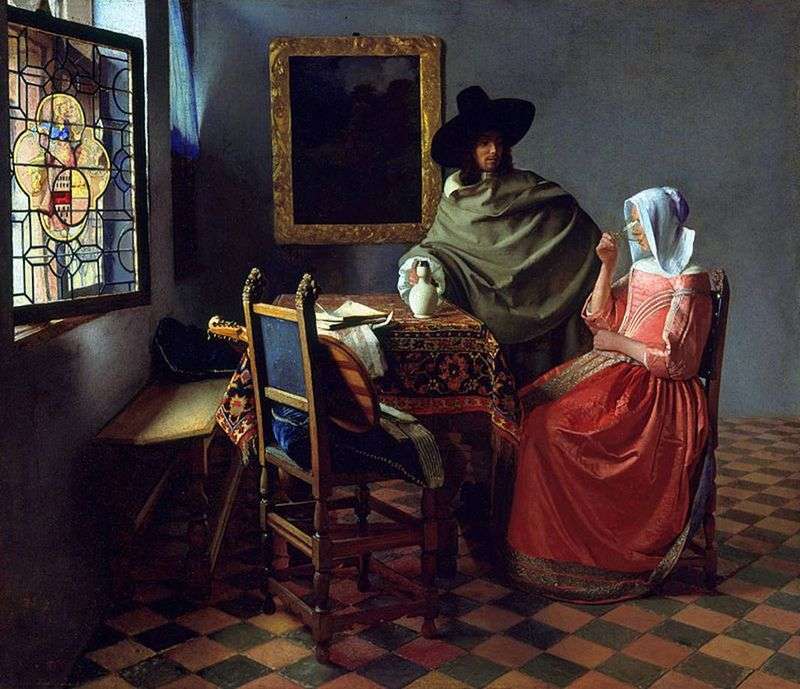 Picture of the Dutch artist Jan Vermeer Delft "The Glass of Wine". The size of the painting is 65 x 77 cm, canvas, oil. Since the 60s of the 17th century, the keynote of Vermeer's paintings is love – in the broadest, equally carnal, and spiritual sense of the word. Even if in the paintings of the painter there are no cavaliers and insidious seducers.
Heroines on the artist's canvases read and write love messages, play music, contemplate jewels, listen to politely flirting; genre scenes Vermeer often single-figure, full of peace and comfort, which contributes to the subtle ability
to convey the atmosphere of the residential environment, unobtrusively involving the viewer. Jan Vermeer in his genre scenes began to more carefully prescribe the characters' faces and interiors, in the artist's paintings appear various musical instruments as a refined allusion to the exquisite and romantic relationship of the characters.
Before us, probably a small zucchini. In it two are a gentleman and a lady. The gentleman in a green raincoat, in a black hat, treats the lady with wine from a white jug. A young woman in a pink embroidered dress, wearing a white-blue cap, drinks wine, the glass is already empty. The chevalier encourages her friend with a smile, offering to repeat it. However, he does not drink. The situation in the room is rather modest. The table, as usual for Vermeer, is covered with a carpet cloth. There are wooden chairs in the corner of the bench. On a blue smooth wall a mirror in a gilded frame. Open window with stained glass. The floor in the checkerboard complements the picture.
It is known that this picture of Vermeer "The Glass of Wine" was painted by a painter commissioned by the Delft patron of art Van Ruiven.