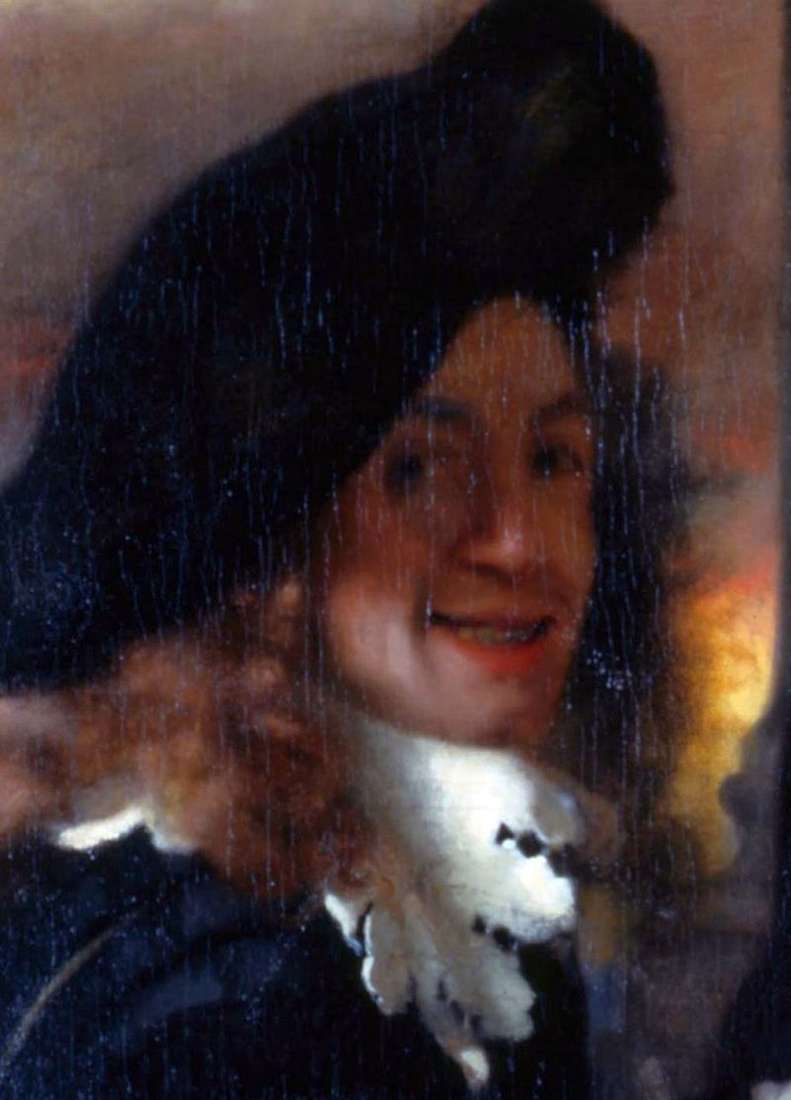 Supposed self-portrait of the Dutch artist Jan Vermeer Delftsky. Self-portrait is part of the painting "At the Vault". The size of the painting is 143 x 130 cm, canvas, oil. The painting was written by Vermeer at the age of approximately twenty-four years, during the early period of his work.
In the painting "In the Vault", the artist applied to the Dutch reality the theme of the biblical parable of the Gospel of Luke about the Prodigal Son, who thoughtlessly squeezes the legacy and burns life in entertainment, gambling and in dens with harlots. The historians of the Dutch baroque art and the researchers of the artist's work, Jan Vermeer Delftsky, believe that under the guise of the Prodigal Son, Vermeer portrayed himself, and in the image of an easily accessible beauty his young wife Katarina Bolnes. Jan Vermeer Delft, a Dutch painter, master of genre painting and landscapes.
Supposedly he was a student of the tragically lost talented artist Karel Fabricius. Jan Vermeer, as a painter, was finally formed under the influence of the works of Peter de Hooch and Rembrandt van Rijn. The content of the artist's paintings is usually very simple: they depict either the street or the inner chambers and the entourage of a house with one or two figures, sometimes a human head written from life. But Vermeer Delftsky is the first-class master in them, thanks to his art to transfer nature with amazing accuracy, his free and easy manner of performance, especially thanks to his ability to excellently convey perspective and lighting in the paintings.
The works of Vermeer Delftsky are quite rare and are highly appreciated. Among them there are pictures: "A servant with a jug of milk", "A girl reading a letter by the window", "An allegory of painting", "A lady in a blue dress", "A girl with a mother-of-pearl necklace" and others.