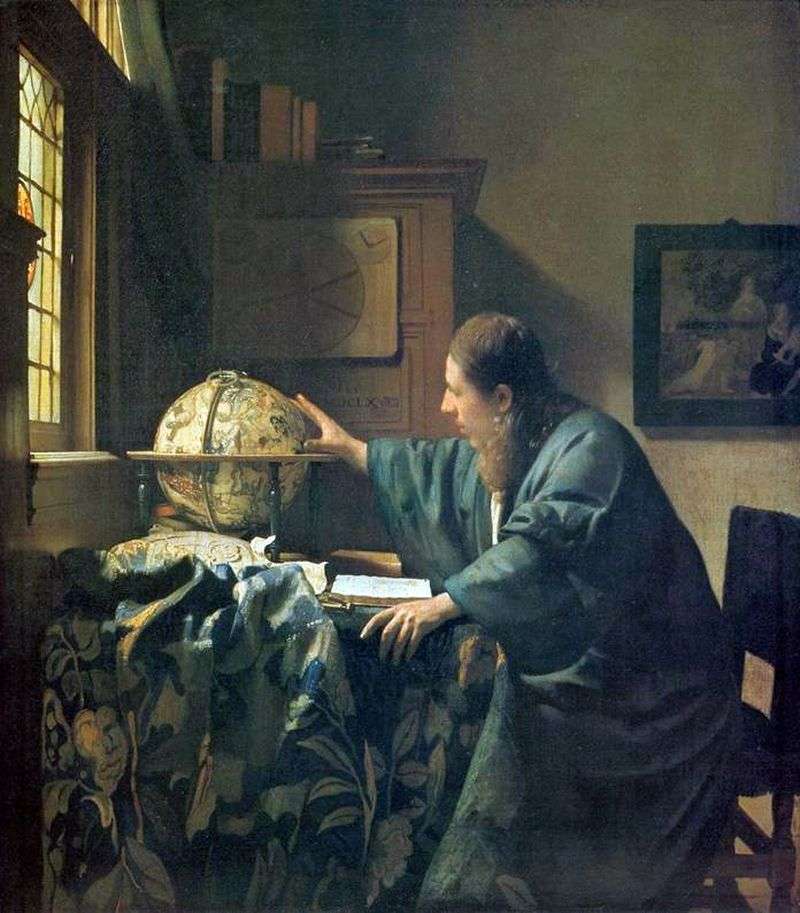 "Astronomer" – a picture of the Dutch painter Jan Vermeer, written around 1668.
Image scientists were prevalent theme in the Dutch painting of the XVII century, which found a place in the works of Vermeer, who wrote "Astronomy" and, a little later, "Geography". It is believed that both paintings one and the same person is shown may, Antonie van Leeuwenhoek.
Industry picture character is reflected in the objects on his desk – a celestial globe and a book Yodokusa Hondius Dutch astronomer Metiusa Institutiones Astronomicae Geographicae. It is noteworthy that the text of the book recommends astronomer "to seek inspiration in God," and painting on the wall portrays the baby Moses found, perhaps symbolizing science and knowledge.
The origin of the painting can be traced back to April 27, 1713, when she and the "geography" appeared in a commercial transaction, held in Rotterdam. A likely buyer was a certain Hendrik Sorgue, on the sale of property which is 7 years later in Amsterdam, both paintings were listed in the list as «Een Astrologist: door Vermeer van Delft, extra puyk» and «Een weerga, van ditto, niet minder ».
Between 1881 and 1888 years, the painting was sold in Paris banker and art collector Alphonse James de Rothschild, after whose death was inherited by his son Edouard Alphonse James de Rothschild. In 1940, after the capture of France by Nazi Germany, the painting was confiscated from Rothschild in Paris, the hotel staff of Reichsleiter Rosenberg, and her back was stamped a small swastika.
After the war, the painting was returned to the Rothschilds, and in 1983, acquired by the French Government on account of payment of inheritance tax [4]. At the present time it is in the Louvre.