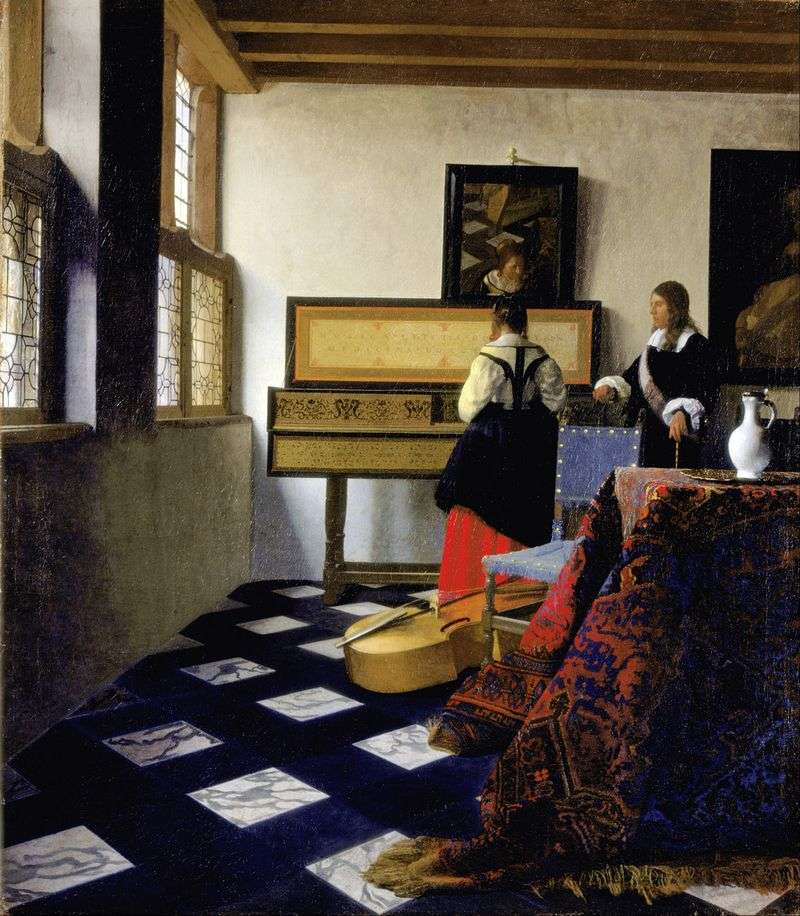 Picture of the Dutch master of painting Ian Vermeer Delft "Lady at the virgin and cavalier". The size of the picture is 75 x 64 cm, canvas, oil. This work of the Dutch artist is also known under the title "Music Lesson". The connection between love and music is the central theme of this picture. The action takes place in a rich burgher house and is removed from the viewer.
In the corner of the room, lit by light from a double window, a virginal stands by the wall. Virginal, a musical instrument, a kind of a small harpsichord. It was distributed in the 16-17 centuries in the Netherlands
and England. On the virginal, a young woman in a white blouse and a bright red skirt with a black outfit plays.
The lady is depicted from the back, but in the mirror above the instrument one can see her face written differently than one might imagine: the girl is looking not at the keys, but at a young man in a strict black dress with white lace cuffs and a collar whose ribbon and sword speak of him high social status. In the mirror, not only the face of the girl is reflected, but also the angle of the table covered with a carpet, and, more interestingly, the artist's easel. Thus, Vermeer noted his presence in the picture.