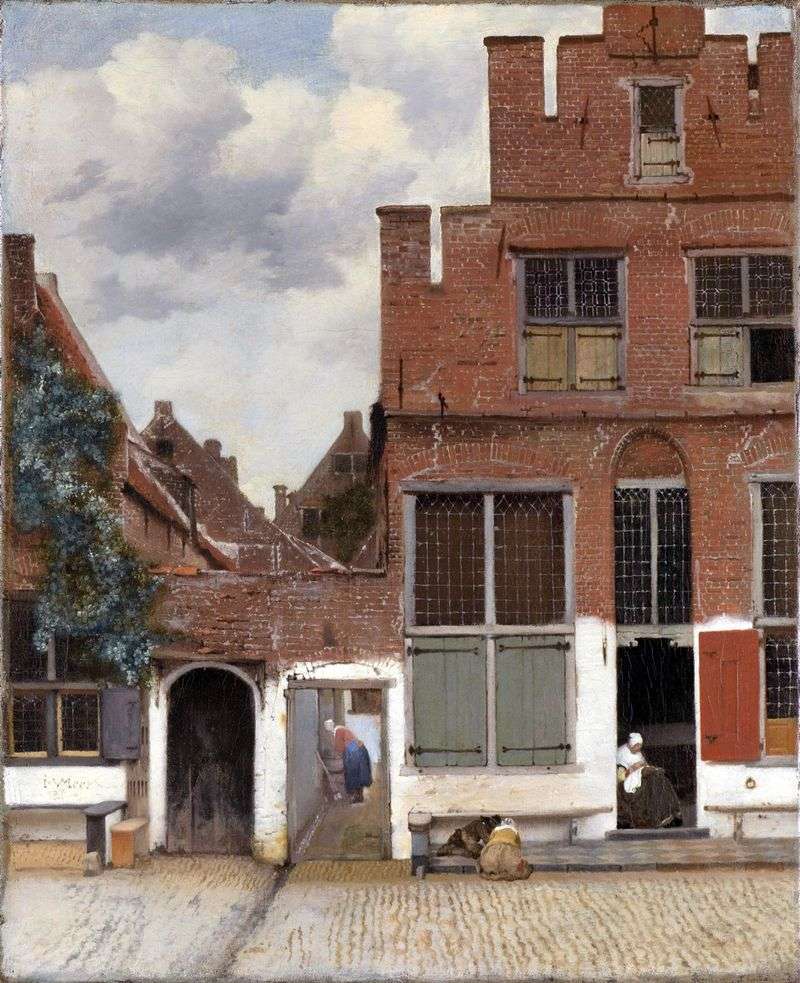 Painting of the Dutch painter Ian Vermeer "The Street of Delft". The size of the landscape is 54 x 44 cm, oil on canvas. In the late fifties of the 17th century, thanks to his creativity and successful investment of the Bollnes family, Vermeer achieved sufficient economic prosperity.
Financial independence allowed Vermeer, as an artist, to paint pictures of the vocation of the soul and choose the themes of works, following their desires rather than the requirements of the art market for paintings. At this time, the painter Vermeer creates his famous city landscapes "The Street" and
"View of the City of Delft".
The landscape-veduta or city view "Delft's Street", which gives the impression of a silent, timeless calm, is a rather peculiar and delicate work of the Dutch artist. Firstly, in fact, the image of the city view and characters is separated from the viewer by a broad cobblestone pavement. Secondly, the image of a brick facade with carved window openings resembling loopholes; and a stepped gable, which on the left passes into a dead wall between the houses – all this looks in an unconditioned way clearly clumsily and clumsily, although it is parallel to the plane of the picture.
The backdrop of the picture is again supplemented by pediments and gloomy roofs of other urban buildings. Still, the picture "The Street of Delft", with an unthinkable, at first glance, composition of the composition, however, is unusually harmonious. And it was this painting of the artist that so impressed the historian Etienne Theophilus Tore, who owns the honor of the "discovery" of Vermeer's painting again for the general public in the middle of the nineteenth century. There is a suggestion that the painter Vermeer portrayed this view from the window of his workshop, but the researchers of the artist's creativity could not find in Delft this building or at least a similar place.