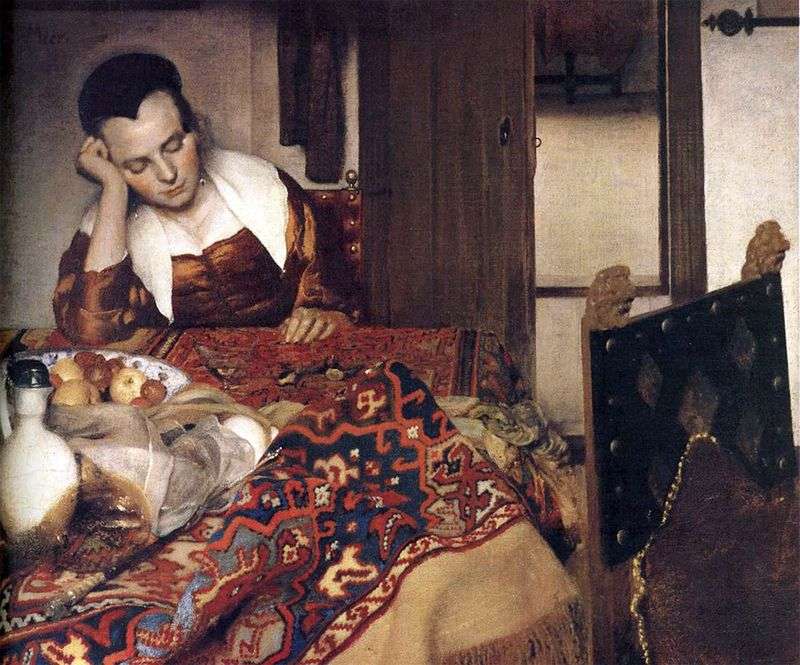 "Sleeping Girl" – a picture of the Dutch artist Jan Vermeer. The picture shows a girl sitting at the table. Her eyes are closed, her hand supports the head. In the foreground, a tablecloth with a vase of fruit and a decanter of wine is placed on the table. For the mess on the table, do not hide and poor interior in the background. The viewer can also look into the next room through the open door.
X-ray research showed that Vermeer originally conceived another background of the picture. So, behind the woman was to stand a man, and in the door to sit a dog. Putting in the foreground a wine
decanter, Vermeer explained the reason for the drowsiness of the woman who determined the name of the canvas. So on May 16, 1696 in Amsterdam was sold a painting called "Een dronke slafende Meyd aen een Tafel".
The next time the painting was sold, it was listed as "Een slapent vrouwtje, van de Delfse van der Meer". The depicted girl is not a maid, her expensive clothes say that she is a married housewife. Her position is treated in two ways: either as an allegory of melancholy, or laziness, which was considered a mortal sin in medieval theology.