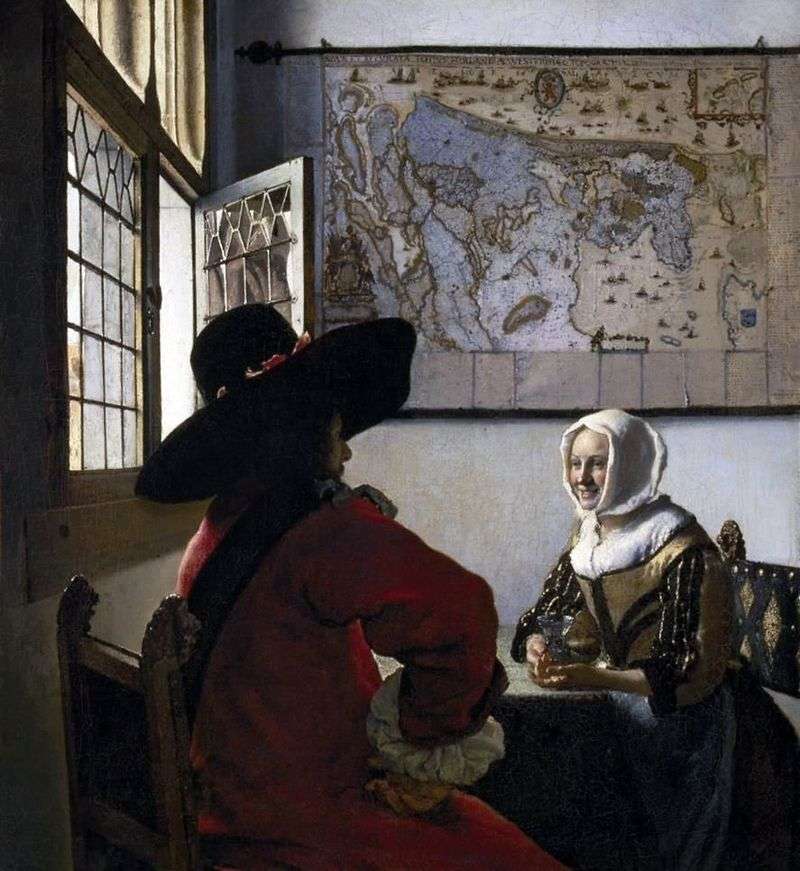 This work is a simple, but charming representative of the Dutch Baroque style. The plot of the work is based on the relationship of the girl and her boyfriend. They are sitting at a table, next to an open window.
In the foreground, to the left, an officer sits with his back to the viewer, and the girl, to the right, smiles at him. Behind it weighs a large map of Holland, a decorative element that, along with the seats, often appears in the artist's subsequent works. The composition itself is relatively common for Dutch genre painting, but Vermeer uses this to demonstrate his mastery of working with
light and space. The arrangement of the characters enhances the effect of depth and gives an intimate mood to the picture. It is the closeness and attitude of the characters that distinguishes thematic works of Vermeer from other Realist Artists.
One of the greatest paintings of the artist's youth confirms his reputation as one of the best masters of the 17th century.
The picture illustrates Vermeer's skill in working with lighting. The main character, for example, bathes in warm light, which pours through the open window. The girl's face and headdress contrast with the dark sleeves of her dress, speckled with sunlight.
"Officer and laughing girl" contains a number of elements that are completely new to Vermeer's repertoire, which leads researchers to think that other artists have influenced this work of the young artist. It is believed that the acquaintance of Vermeer with the genre artist and portraitist Gerard Terborh greatly influenced the formation of the master's style. Despite the stylistic differences with other works of the master, "Officer and Laughing Girl" testifies to the artist's constant interest in Karavagism.
Drawing attention to the obvious similarities with the works of Terborch, this composition of Vermeer stands out against the background of the works of contemporaries, above all incredible work with space. It is possible that the volume of the picture is achieved through the use of a camera obscura. This is confirmed by a slight distortion of the soldier's figure, mixing of contours and colors of some objects and a number of other signs. This optical device was used as an auxiliary tool in the construction of the perspective was actively used even before Vermeer, and the first mention of it was found in the 5th century BC. e.
This work by Vermeer contains much less symbolism than later works, although the map and the open window create some allusions to the outside world, possibly hinting at the influence of alcohol and the important role of chastity.