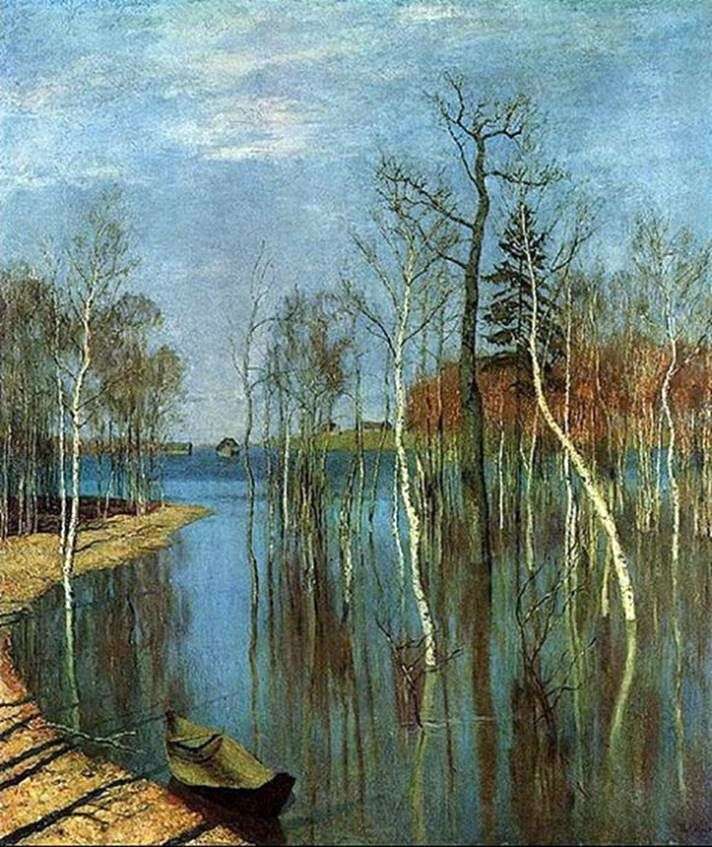 To the greatest masterpieces of Russian spring lyrics is the famous painting "Spring. High Water."
The picture shows the moment of high water, when the "big water" covered the coastal areas, flooding everything around. Thin trees, immersed in clear water, rise to meet the light blue sky, as if washed with rains, reflected with the trunks at the river's spill. The water is calm and still.
The coloring of the picture is formed from subtle shades of blue, yellow and green. Mostly blue gamma, which combines the yellowness of the shore and tree trunks, animated by a thick green spot of spruce, as well as shades of green in the oak next to it and sheds away. The most diverse color is blue: the water and sky are full of shades from dark blue to almost white.
The sonorous, blue sky, white birches and trees streaming up, floating huts in the distance, the fragile boat merge into it into such a melodious, clear, transparent whole that, peering into this enchanted space, you dissolve into the blue lagoon of a sunny spring day.
"Spring – big water" is very harmonious and attractive, this is one of the most lyrical pictures of Levitan. The landscape is written in clear, light colors, giving it the transparency and fragility characteristic of Russian spring nature. The picture is filled with spring quiet joy and tranquility, it is full of optimism from the spring resurrection of nature.
But the longer you look into the picture, the clearer the melancholic motif appears. With the awakening of nature, spring comes, but now in its gentle manifestations there is not so much hope for warmth and joy, but lurking sadness and meditation about the fleeting cycle of life: you do not have time to look back when autumn comes, and after it is winter.
Ivan Bunin. 1892. Hollow water rages, Noise and dull and prolonged. Rooks flying flocks Shout and fun, and important. Black mounds smoke, And in the morning heated in the air Thick white vapors Are filled with heat and light. And at noon, puddles under the window So spread out and shine, With a bright sunspot In the hall, "bunnies" tremble. Between round loose clouds Innocently the sky turns blue, And the gentle sun warms In calm the humen and yards. Spring, spring! And all she is happy. How in oblivion what you stand And you hear the fresh smell of the garden And the warm smell of melting roofs. Around the water rumbles, sparkles, The cry of roosters sounds sometimes, And the wind, soft and damp, Eyes quietly closes.