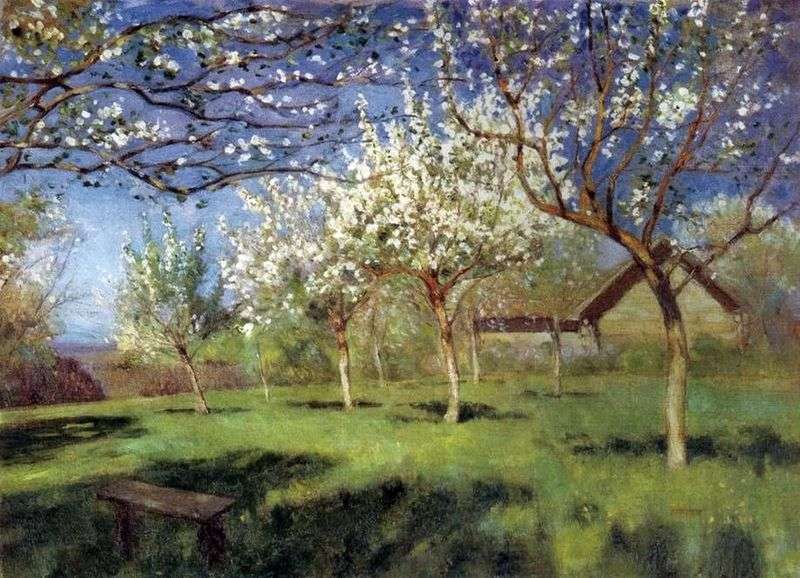 Levitan, as Benoit rightly expressed it, "felt in nature that he lives and praises the Creator; he heard with his sensitive ear how the heart of nature itself beats." Levitan is a whole strip in Russian painting. Friends, connoisseurs and art lovers were amazed at his polished skill, his "virtuosity in handling color, stroke", the ability to saturate the picture with the sun, light.
They said that no one, like Levitan, knows how to select the right colors for the transfer of the most significant thing in the landscape, and most importantly, he doesn't know how to show, in a Levitanian way, the modest and intimate things that are hidden in every Russian landscape, his soul, his charm. " Therefore, the Levitan landscape was not without reason equated with Turgenev nature.
In the mid-1890s, Levitan turned to the images of "Flowering Apple Trees", writing a series of sketches and a small picture with this name, gently and tenderly depicting white-pink boiling and light green of the spring garden, giving him a "rosy light" and feeling "blossoming May bliss. " "Ples opened Levitan…" – so said many. But the artist also "discovered" a corner not known to him. "Completely new techniques and great skill amazed us all the sketches and pictures that Levitan brought from the Volga," said Nesterov.
Russian landscape painter Isaac Ilyich Levitan, working from 1888 to 1890 in Plyos, understood the best possible way and experienced the full force of the emotional impact of the Plez landscapes. About 200 works made by him in Plyos brought Levitan wide fame, and Plyos has a happy fate since then – he became a true "Mecca" of landscape painters. The work of Isaac Levitan "Blooming Apple Trees" is the pride of the museum's collection.