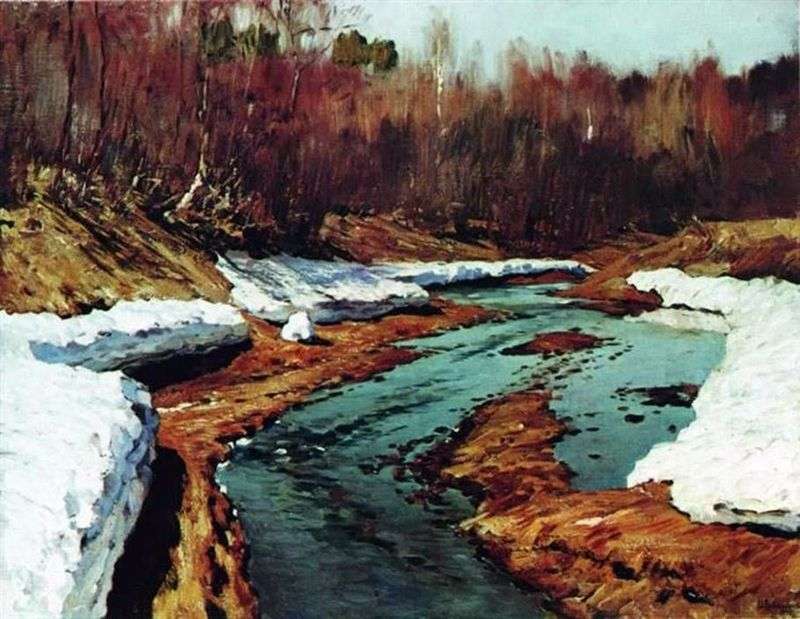 Isaac Levitan is a Russian artist who received recognition during his lifetime, which speaks of the outstanding talent of the painter, who masterfully depicts the exceptional beauty of Russian nature. With his brush he was able to convey the soul of the fields, forests – all that is so dear and close to the heart of the Russian people. And nowadays digital photography is breathtaking for many connoisseurs of painting when looking at the paintings of the great master.
The painting "Spring. Last Snow" was written in 1895 and refers to the mature period of the artist. It depicts a small river,
which has just thrown off the shackles of ice and is preparing to spill a deep river.
The very beginning of spring is depicted, nature is still asleep during the winter sleep, but the river that has been released tells us that the height of spring is not far off. The snow from the snow-white becomes gray, the trees are ready to wake up and dissolve the first buds.
The light of the sun is visible everywhere, although the artist did not depict it clearly. Light comes from everywhere: from snow, river, sky. Despite the monotonous spring landscape, thanks to the skill of Isaac Levitan, it comes to life and acquires a charm that any connoisseur of nature and beauty will notice. The canvas conveys to the viewer the anticipation of warmth, the return of birds from distant edges, lush green grass and flowers. The artist was able to catch the moment of incomplete awakening of nature and, thanks to his skill, dirty snow gives the viewer a sense of solemnity and the charm of the arrival of spring.