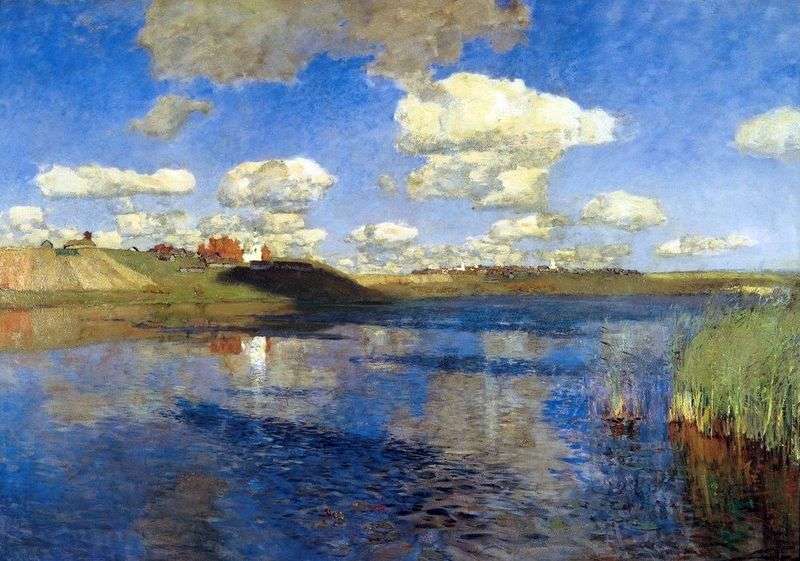 This is the main canvas of the author of the later period. It was not completed due to the death of the creator. But even this unfinished view makes an indelible impression. The incredible freshness and special brightness of a sunny day is conveyed with a peculiar immediacy, which can be called almost impressionistic. The viewer can watch the wonderful golden clouds moving across the sky, reflecting interestingly in the lake. On the shore are bright white bell towers, rich green meadows, yellowed trees.
The picture of Levin as if absorbed all the observations and impressions of the artist on the nature of his land. Levitan skillfully combines the bright colors of summer with many shades of the autumn period. The idea of the artist is to show the true happiness of autumn nature. The viewer can watch an incredibly romantic picture, sounding like a lyric song.
The sky, the author reflected, not just as a background work. Clouds as if not only float, catching up with each other, but as if they go beyond the picture. It is the clouds that become the most expressive part of this masterpiece. The author has embraced the space on such a large scale that it seems like a panorama. And the clouds only reinforce this unimaginable breadth.
All colors in the picture are very rich and clean. So, the clouds are depicted far from white, but a little purple and yellowish, where the rays of the sun reach. The whole picture is painted with strokes of great width, they summarize the subjects.
The artist tried to combine some decorativeness and true monumentality, generalization and complexity, psychology and subtlety of the transition from color to light.