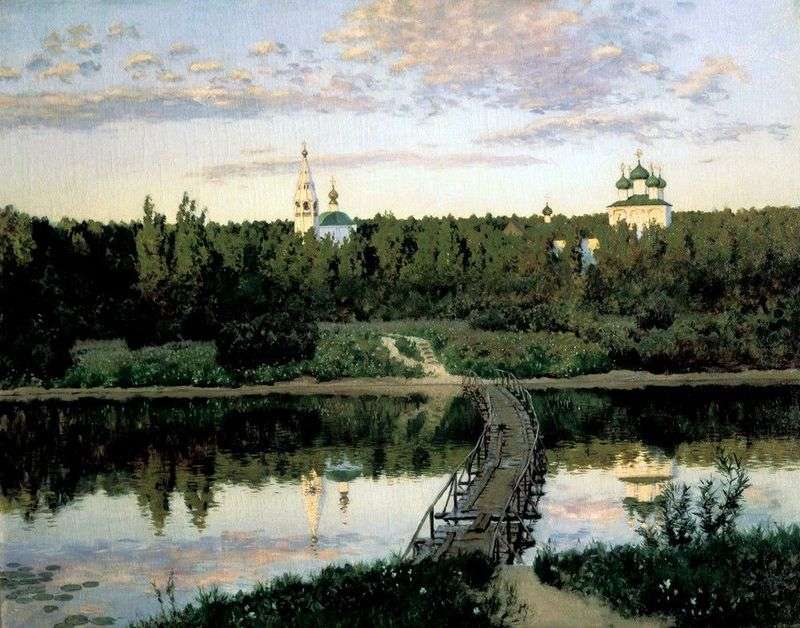 Mountains and rivers have always been distinguished by beautiful and picturesque nooks that so attracted artists. Levitan I. I. also not accidentally chose a similar area for writing his work.
The author wanted to transfer the whole atmosphere to the picture as best as possible so that everything was alive and organic, so he paid special attention to the small features of the picture. If you look closely, you will notice that the artist decided to emphasize the outlines of the clouds, which not only float past the lake, but also bring in fresh aroma around.
Looking at this work, it is possible to imagine that the breeze stirs small grass, rustles the leaves, everything around us gradually begins to come alive and gets a second life. At first glance, the picture is nothing special, someone can watch it every day. But the way the artist managed to convey all the magnificence and uniqueness of this place with a brush, deserves special praise. The author had a goal – to show the diversity and beauty of the place where you are constantly. Indeed, in the everyday bustle, we often do not notice this.
The painting depicts a summer landscape. It can be seen how clouds float smoothly and serenely across the sky, and the soft wind makes the way to the sun. Lighted forest becomes wider, stronger and more reliable. Among the tall trees one can see poppies of churches that seem to be lost in them. The sun illuminates the green domes of the monasteries, which respond with a beautiful emerald hue. The river is divided into two banks by a bridge, thanks to which you can be near a green grove. Skillfully selected paints by the artist provided the effect of a lively nature.