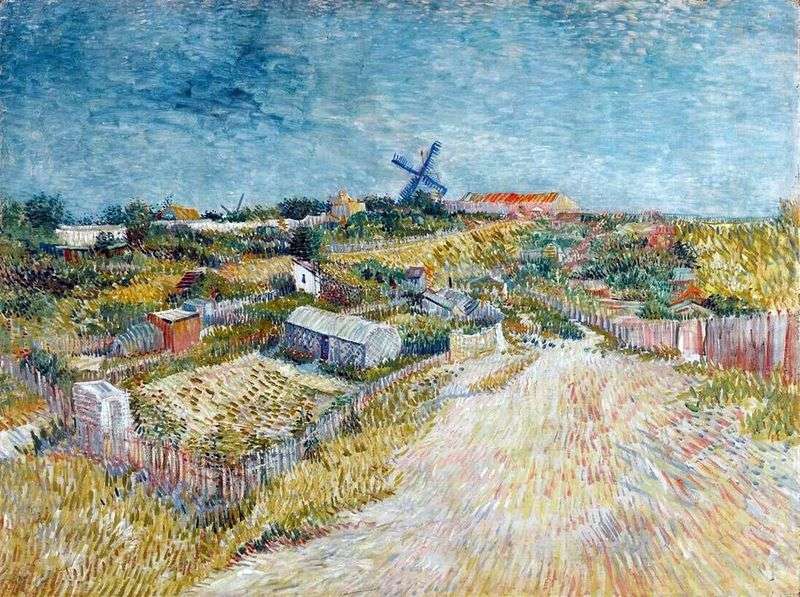 Van Gogh created the picture "The Cities in Montmartre" in 1887 in Paris. Having moved to the capital, the artist got acquainted with the Impressionists, whose innovative ideas were close to him. Together with other artists, he often visited the neighborhood of Paris, imprinting on his canvases his picturesque surroundings.
The territory of Montmartre, then not yet part of a large city, was occupied by fields, gardens, gardens and small village houses. Van Gogh often wrote his picturesque views, inspired by the richness of shades and colors, wide open spaces and the wealth of unfinished land.
In
this picture, Van Gogh paid attention to the vast space stretching under the bright sky. He uses the technique of impressionism, conveying all the richness and variety of shades of soil and greenery. Against the background of the turquoise sky, strewn with small lilac smears of cirrus clouds, the mill rises, and to the right of it is seen a long haystack, whose unusual orange color makes it the brightest spot on the horizon.
The earth, greenery, roofs of houses are written energetically and quickly. Particularly striking are the strokes of orange and ocher flowers in the foreground, which, adjacent to cold smears, convey all the richness of natural colors seen by the author. The shades of the shades give the unpretentious landscape an unusual beauty – a simple motif, inspired by the artist's perception, becomes incredibly attractive and interesting.