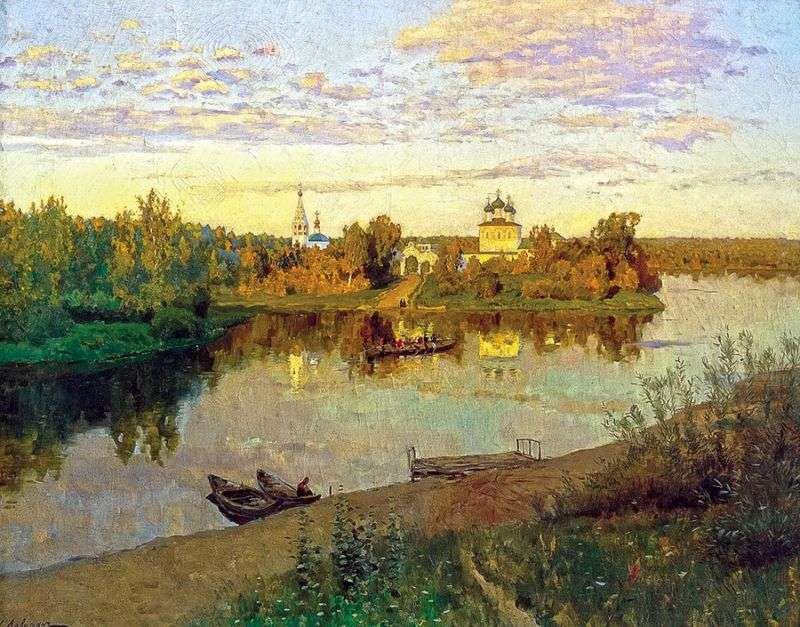 An amazing picture with a unique ability – in addition to visual perception, this picture can also be heard.
Isaac Ilyich Levitan wrote the work in one of the happiest periods of his difficult life – 1892, and, probably, also because of this, it is one of the best, defining the individual style of the master.
The religious structure depicted in the picture is not a figment of Levitan's fantasy, but a real-life Krivozersky monastery near the town of Yurievets, but a narrow river is the Volga, the most beloved by the artist.
The picture can be attributed to the genre of "church landscape" – there are several similar works by Levitan. The author depicted a summer evening, namely the time when the bells ringing everyone for a prayer.
Rare "guests" on the canvas of this artist – the people who master the landscape did not like to depict them in their works. The main "humanized" hero for the artist has always been nature itself, the landscape, however, people are present in the picture presented. A small steam with pilgrims gives the work realistic features.
Truly magically in the picture shows the sky, solemn pinkish-white clouds slowly float above the high bell tower and monastery. There is, a cunning favorite move of the master – the "doubling" of the heavenly space, through reflection in the calm mirror surface of the river.
In this picture, the viewer will not find contrasting comparisons and other color dissonances – everything is calm and harmonious. The Volga crosses the canvas diagonally and, as it were, leads the viewer's eye, giving the composition a dynamic.
The picture surprisingly sounds in unison with the natural and spiritual beginnings – the extraordinary beauty of the landscape is in perfect harmony with the steeple of the bell tower, the white-stone walls of the monastery, which hurry to serve as pilgrims. And over all this evening pastoral there is a low and thick ringing of the bell, which resonates with all this beautiful nature, and conveys to us its majestic call after centuries, invariably giving rise to deep philosophical thoughts.