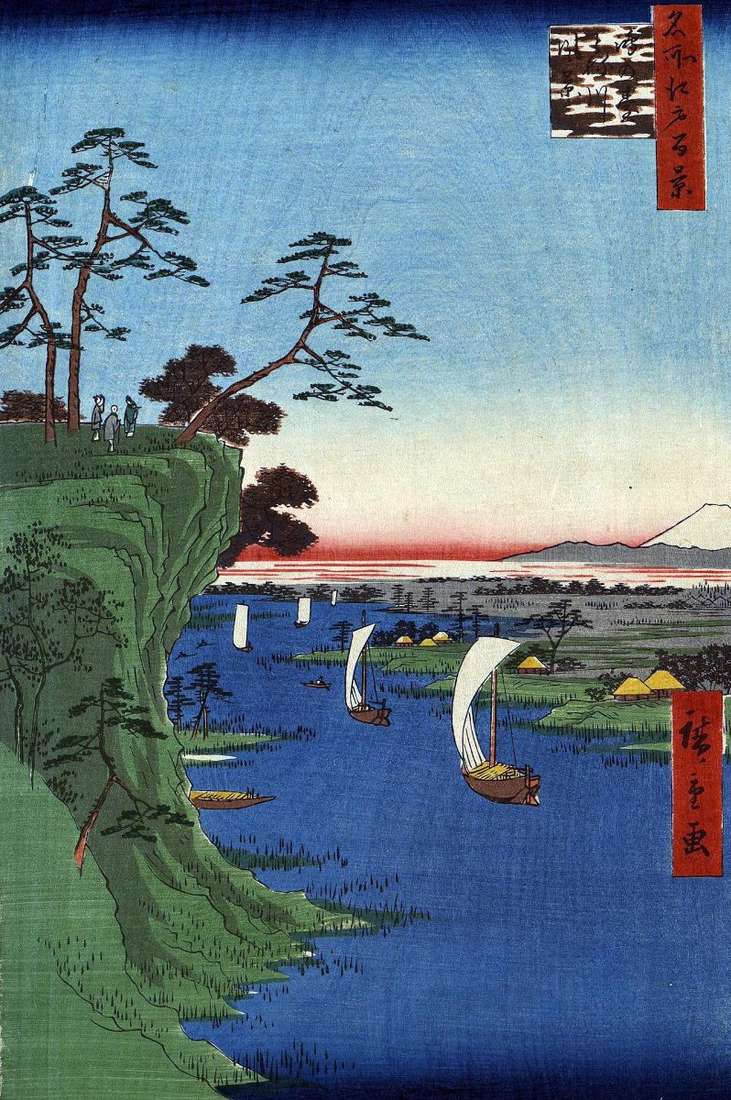 Hill Konodai is located on the western edge of the hill of Simosudaiti. At the foot of the hill, from the north to the south flowed the river Tonegava. Earlier on this hill there was Ichikawa-dze castle belonging to the genus Satomi. Near it was the temple of Kokubunji. It was the busiest place in Simous. In the era of Edo, the name of this place became the hieroglyph "swan", as there were many swans on the Tonegawa River. In order to protect Edo from floods, the government of Bakufu ordered to change the flow of the Tonagawa River from the south to the east. Part of the water flowed at the western foot
of the Konodai Hill, further south and flowed into the Bay of Edovan. This current was also called Edogawa. Due to the changing flow, it became convenient to transport cargo from the north of Japan.
In the Edo period there was a destruction of the hill, a steep sloping slope was formed, it is visible in the engraving on the left. From the hill of Konodai a beautiful view was opened. On the horizon was the Edo Castle, the forest of the Se-njiji Temple and the roof of the Higashi Honganji Temple, the Ueno Mountains and even Mount Fuji. The foot of the cliff is painted in brown tones, in the initial version the color is homogeneous. The blue band of the boccas passes not across, but along the course of the Tonagawa River, shading the base of the cliff. The sky, yellow at the horizon, gradually turns into a gently pink and blue.