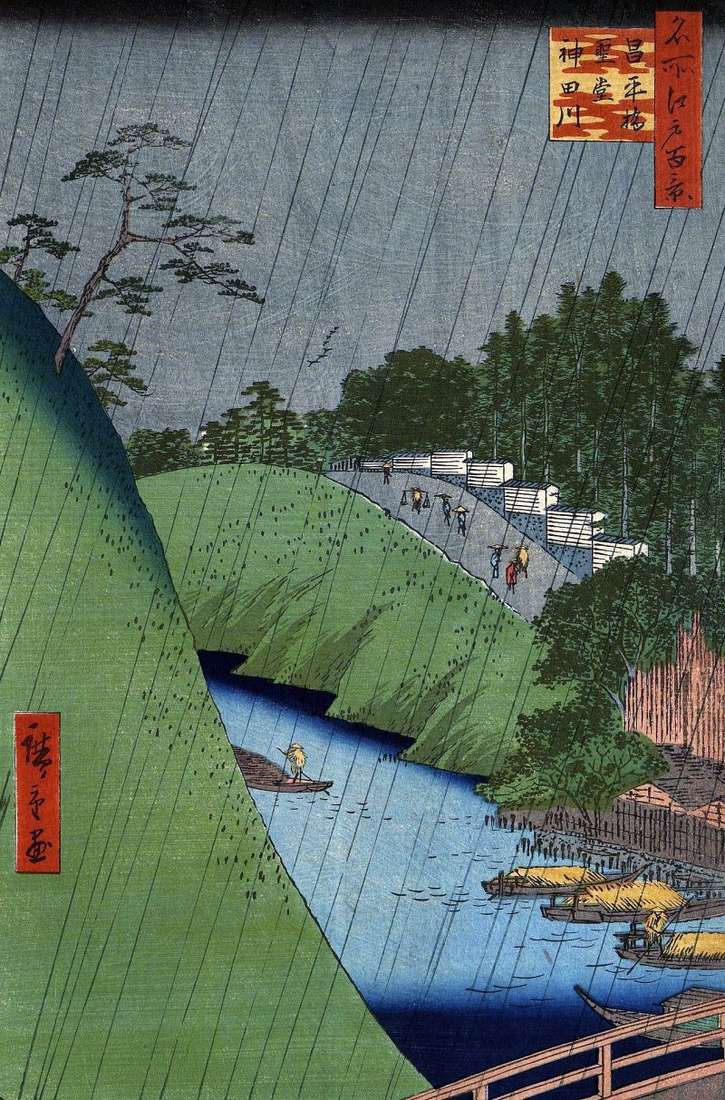 Hiroshige depicted the river Kandagawa, originating in the Musashi area and flowing into the Sumida-gawa river. Steep slopes, between which the river flowed, were artificial. They were built in order that the river Hirakawa would not leave the coast, which happened quite often.
On the right is the upper fence of Sehaibashi Bridge. On the slope of Sekhaydzak, behind the fence was located the territory of Seydo, connected with Confucius – the founder of the most ancient in the history of state ideology. In turn, Confucianism was the official state ideology adopted by the military government bakufu. The word "Sehai" is the Japanese pronunciation of the name of the Chinese locality where Confucius was born. On the right bank of Kandagawa, behind the fence was the Sehaiko Academy – a large educational institution where various areas of Confucian teaching were studied.
This engraving is one of the three prints of the series, which depicts rain. Heavy gray sky contrasts with bright greenery. People, floating in boats and climbing the slope, are dressed in yellow straw coats "mino". The transfer of the volume of the hill and the bank of the shore in late engraving is achieved by dark strips inside their contours. The crowns of the trees on the far bank are almost black. The highlighted portion of the sky on the horizon signifies the rapid cessation of the rain.