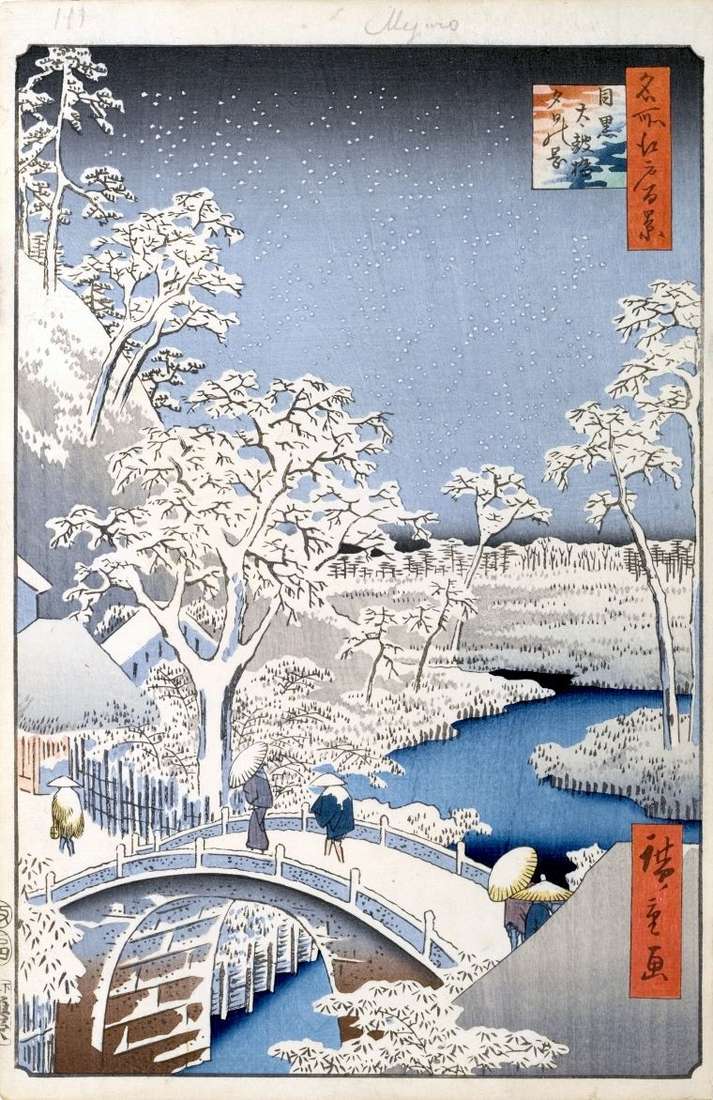 At the slope of Geninzak in Maguro was a stone bridge across the river Megurogava. The image of this bridge occupies the entire foreground of the engraving. The official name of the bridge was Itien-Sotobashi, but the bridge was nicknamed Taykobashi, because it had the shape of a drum, without the bridge piers. There were few bridges of similar shape in Edo, but this one was unique, because it was made of stone.
The elevation on which Genenzak's slope was located was located in the south-west, and there was a beautiful view of the setting sun, so the slope was also called Yukhinoka – the Hill of the Evening Sun. Near the bridge were three famous temples in Meguro. Not far from the bridge, depicted Hiroshige, was Fudo Temple, but the artist does not show it in any of the engravings of the series. Behind the hill was the Meoin temple, it was founded by the monk-ascetic Genin, who gave the name of the slope of Genenzak.
In the lower right corner of the sheet, near the very exit from the bridge, you can see the roof of the Segatsuya restaurant, where a soup of bean paste with rice mote whiskers was prepared. Hiroshige created a quiet, snowy landscape of the lower reaches of the river Megurogava, which can be regarded as a symbolic image of winter nature. The supports of the round stone bridge in the foreground turn gray-brown in the late version. The bottom of the hill on the left became darker. But the sky in the second version is lighter in the center and darker near the top edge of the engraving and at the horizon line.