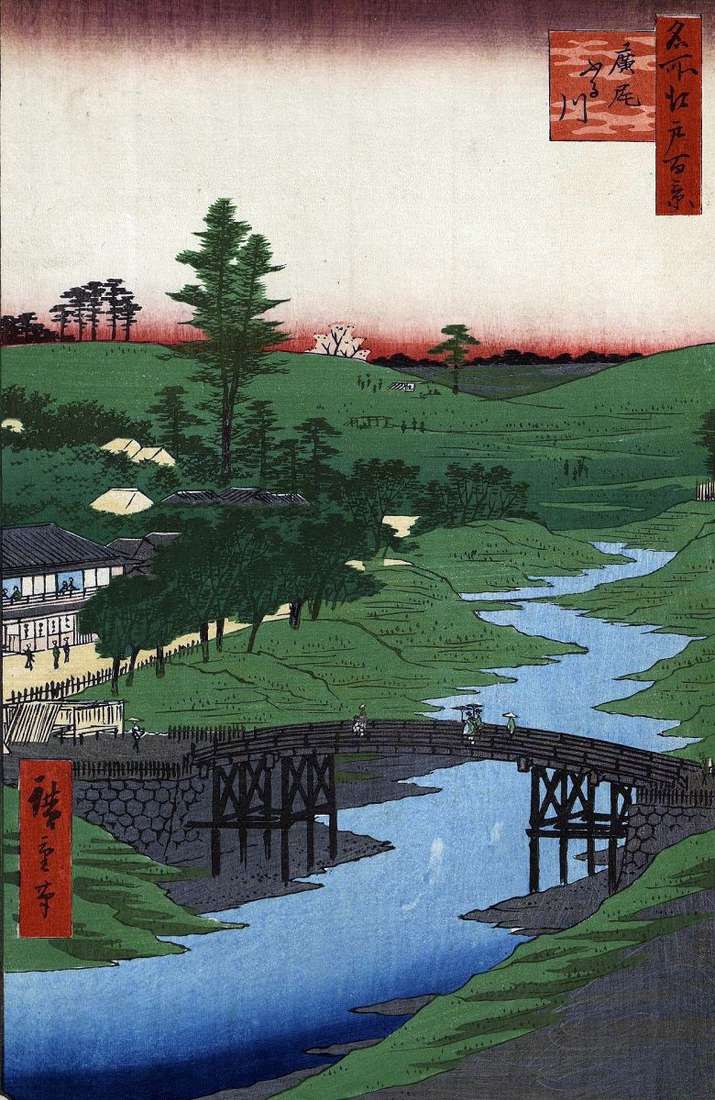 To the south-west of Edo was the plain of Hiro-ha hara, which for a long time remained uninhabited. At the end of the Edo period, the townspeople began to flock here to admire the beauty of Hiro-ha hara. Gradually began to appear the first tea shops, entertainment institutions, restaurants, one of them – the restaurant "Ovaria", you can see in the engraving. The main attraction of Hiro-ha hara was a small river Furukawa.
Like many Edo rivers, Furukawa changed its name depending on the terrain along which the Sibuyagawa, Nipporigava, and only the upper reaches – Furukawa. The engraving shows its quiet flow near Sinohashi – the Fourth Bridge, which was also called Sagamidonohashi, as there was a daimyo mansion nearby the Sagami no Kami. In fact, there were many more temples, country houses of high-ranking samurais on the river banks, than Hiroshige put it.
An interesting feature of Hiro-ha hara, which attracted citizens here, were water mills that stood on Furukawa. The later version of the engraving underwent certain color changes. The color of the sunset on the horizon line becomes more intense. The trees on the riverbank are distinguished by dark silhouettes against the backdrop of the hills. The color of the square cartouche changes to red.