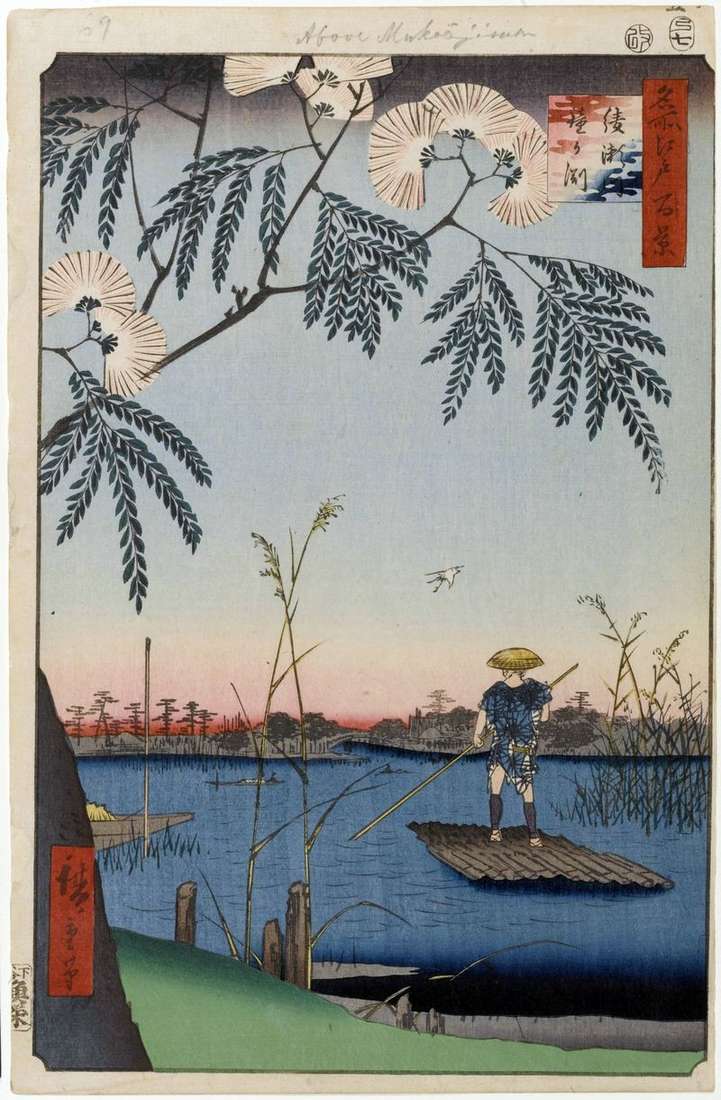 The Sumidagawa River flows east from the Shanjiu Ohashi Bridge, and then turns south, where Ayasegawa flows into it. It is this section of the river that opens to the viewer. On the banks of Ayasegava, the townspeople went in the spring: they admired the willows and listened to the singing of the cicadas. These places were also known for the flowering of silk acacia trees – nemunoki.
In the foreground of the engraving, Hiroshige painted a flowering acacia, but in fact the trees grew on the opposite shore. In the south of the confluence of the Ayasegava River to Sumidagawa there was a place called Canegafuti. Its name is associated with a story that occurred in the middle of the XVIII century. From the Temecji monastery in Hasiba, a bell was cast on the opposite shore, cast in 1735. In the middle of the river the boat turned over and the bell sank. All attempts to get him from the bottom of the river were unsuccessful, and this place was called "Bell's Abyss".
In the north, from the bridge of Senju Ojashi, there were many shops selling wood, it was transported on rafts, which can be seen in engraving. As mentioned earlier, in the later editions of the series, the color tone of engravings intensifies, this also applies to the real sheet. The trunk of the tree at the front edge of the engraving on the left, like the raft on the river, becomes a dark gray color. The strip at the upper edge becomes almost black.