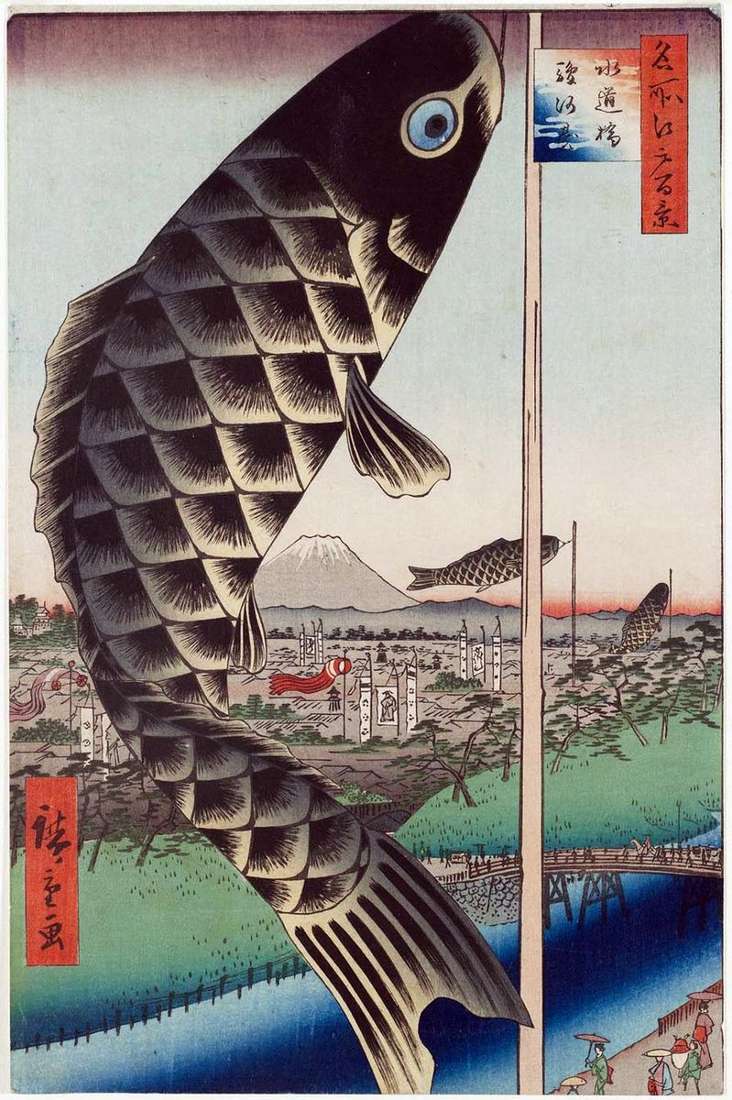 In this engraving, the Kandagawa River and Suidobashi Bridge are visible. The source of the river was the excess water of the Kanda Canal from the Airazutsumi Dam in Sekiguchi. This drinking water from Araizutsumi flowed through the heights of Madzirod and Kokhugayai, then through a mansion in Koishikawa, across the Kandagawa River, and then along wooden and stone pipes to the Edodze Castle, to the districts of Kanda and Nihonbashi. These pipes passed just next to the place depicted in the engraving. Behind the bridge on the hill of Surugaday were the districts of Samurai mansions.
The Surugaday hills were part of the Kanda Upland, but later the whole elevation began to be called Surugaday. The engraving shows the boys' holiday in Surugaday. In families where there were boys who reached the age of seven, this holiday was marked necessarily. In the houses of the samurai, helmets and warrior dolls were put on a special hill, koinobory – carp pendants were hung out on the street, the image of one of them occupies the entire first plan of the engraving. Behind the hill Surugaday is noticeable, the main building of the castle of Edo, next to the tower.
Over the entire landscape rises Fuji. The color structure of the late engraving is more attire and bright. From the first variant the color of the river differs, in the middle of which there is a wide blue stream band. The square cartouche is also very colorful.