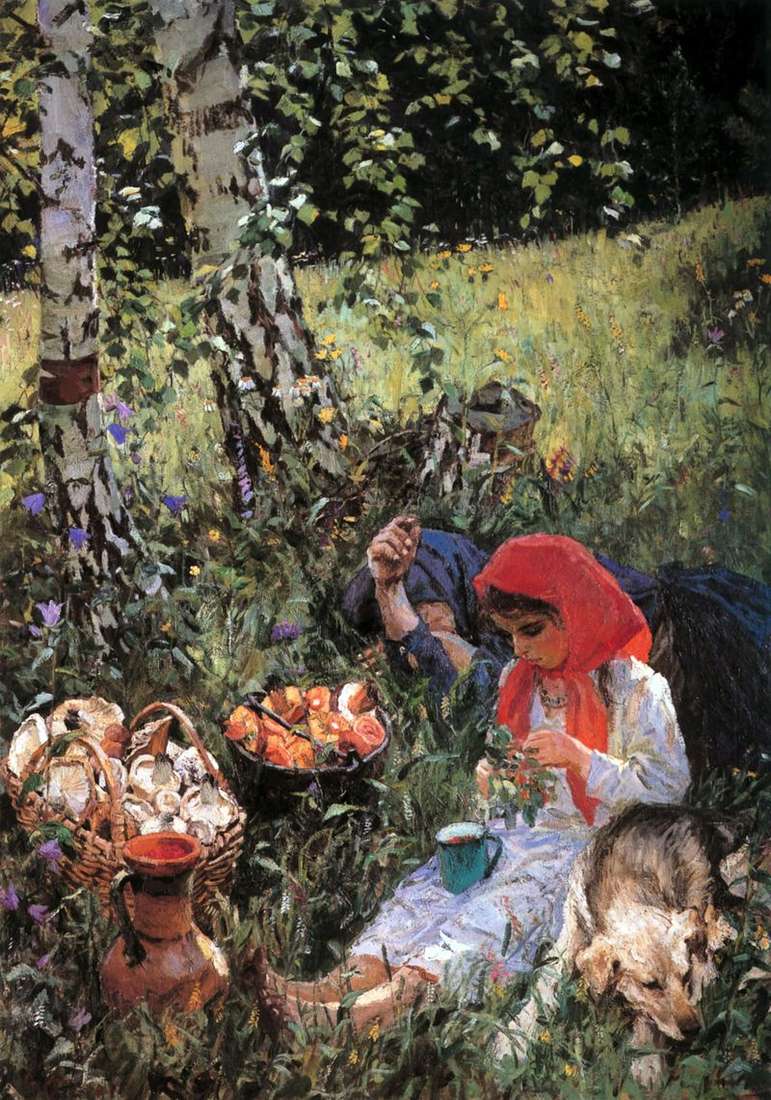 Summer is a favorite season for many of us. This time of rest, new impressions, new discoveries. In the painting "Summer" the artist showed a hot summer day. Two people have a rest under the birch trees. Apparently, this is a mother with a daughter. They gathered a basket full of mushrooms and sat down in the shade to rest. The girl has a white dress and a red kerchief. The girl is sitting on the grass, next to the basket. She is very tired from a long walk. But even during the rest, she does not waste time, but tears off the twigs from the berries and throws them into a mug that kneels.
Near the girl lies a dog. The day was hot, and the dog was also tired, he lowered his head to his paws. On the other side of the girl her mom is sleeping. She is wearing a blue dress and a handkerchief; she covers her from insects. The hand of a woman is raised to the top and we see that she is tanned, strong. The hand of a woman who works very hard, works either in the field or in the garden.
Behind the weary travelers – the clearing. She is all lit by the bright sun. The artist applied the brightest, richest colors to show the audience the beauty of Russian nature, a magnificent forest. The leaves of the birch tree, near which mother and daughter sit, rustle in the wind, from the sun they become even more beautiful. The grass seems literally silky.
The artist also painted yellow and cornflower flowers, which perfectly complement the landscape. Summer nature is generous with gifts. One has only to bow to her and you can collect a lot of mushrooms and berries. Next to the heroes of the picture is a jug of water or milk, which mom and daughter drink when it gets really hot.
When I look at this picture, I involuntarily recall hot summer days, vacations in the village with my grandmother, I smell the grass heated by the sun, the smell of freshly picked berries and a gentle breeze of wind. I really want to be on such a picturesque glade at the same moment, to enjoy all the delights of a hot summer. Especially it is not enough when you return to the city after the holidays.