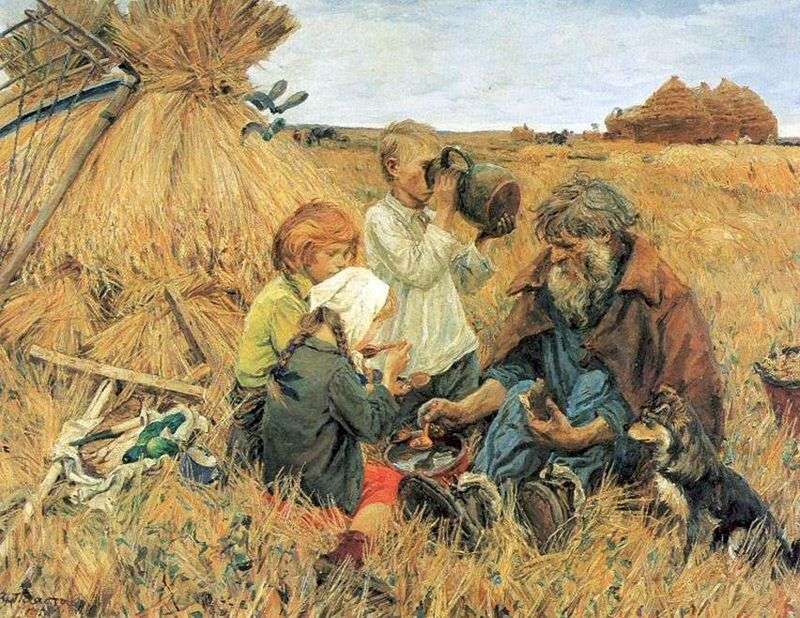 One of the famous Russian artists is Plastov Arkady Alexandrovich. He had great willpower and thirst to create. Despite the fact that in 1931 all of his works were written by overwork, burned down, he was able to leave to his contemporaries about ten thousand beautiful creations. In his works, the author portrayed the peasant life of the Russian people. On his canvases we can see what we have learned from history or heard from old people.
My favorite picture of the artist is the work "Harvest". On it, the author showed a simple peasant family lunch during a break in the field. All around you can see large sheaves, working people and horses, and a whole field of spikelets of wheat.
But most of all attracted the attention of the first picture. Near the high sheaf settled family. Old grandfather, two boys and a girl. His grandfather is very old, he has a gray long beard, thick uncombed hair and very tense hands. In one he holds a piece of black bread, and the second one spoonfuls of food. He is dressed very strangely, as it is summer outside and it is too hot, and he is wearing a blue work suit, a brown jacket is thrown over, and boots are on his feet.
Perhaps this is in order not to scratch the legs and arms. Children are dressed a little easier. The boys wear light shirts and pants, and the girl in a red dress and blouse. She has a handkerchief on her head. A blond boy drinks water or milk from a jug. This is an old earthenware jug, it can stay cool for a very long time, which is very convenient in this heat.
Near them are equipment for work. Wooden rake with which the girl rakes beveled spikelets. Sickles sticking out of a sheaf. They work boys. This is very hard work, because all the time you have to be bent. And standing next to the sheaf spit, which works grandfather. Even behind the back of the girl and the boy lies a little table with cucumbers and a knife. Perhaps this is the second. The dog looks at this whole process with greed and envy. She is standing by her grandfather's feet in the hope that she will also get a piece of something.
The picture makes me have a double impression. Firstly, she is very kind, warm, caring. And secondly, I feel sorry for these people, because they work so hard to get a piece of bread. The author is very wonderful and emotionally conveyed such moments on his canvas.