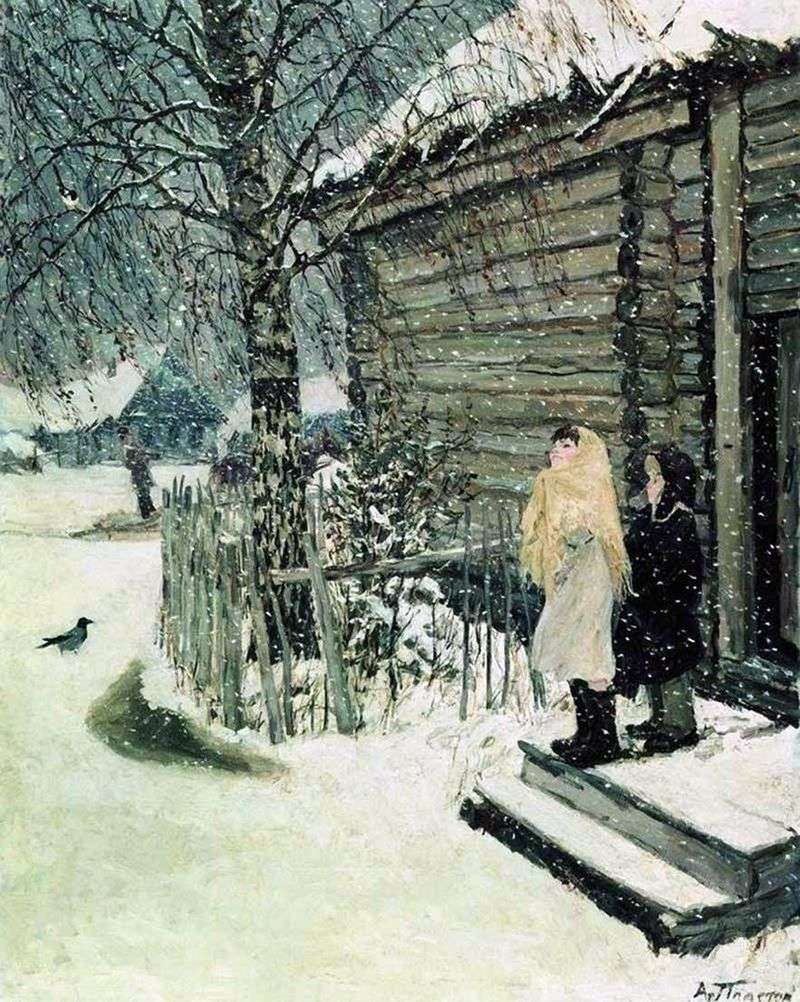 In the works of Arkady Plastov one can see with the naked eye the genuine love of rural life, the peasantry; many of his works are devoted to this topic. One of his most famous paintings on this topic is "First Snow". The artist depicted a simple plot from the village life on it – the decorations are a hut, a front garden, a birch tree. But the main thing in the picture is snowfall.
On the porch of an old village hut there are two children – apparently, a brother and sister, and are fascinated by the snow falling from the sky. Millions of dancing snowflakes cover the earth, trees, and buildings with a soft white carpet. This sight amazes and fascinates them – it is clear that they have been waiting for this event for a very long time. Smiles froze on the faces of the children – pure, sincere, which can only be found by people who are able to find beauty in simple ordinary things.
Apparently, the children, seeing the falling snow outside the window, were going to the street in a hurry; The feet of the children are shod in felt boots – the usual rustic winter shoes.
The color solution chosen by the artist for this work creates some monotony, white, gray and brown colors prevail in the picture. Despite this, the canvas does not bore the viewer at all. The enthusiastic glances of the children echo the clean fresh snow. Snowflakes gently touch their faces, which glow with warmth and joy.