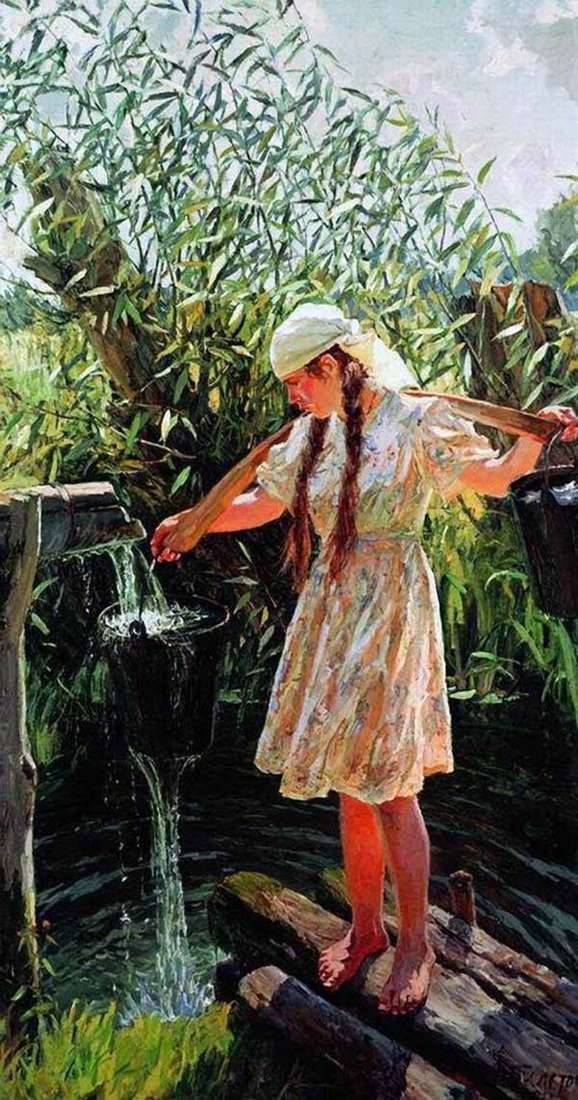 Very romantic and vital is the picture of the famous Russian artist Plastov Arkady Alexandrovich "Noon". He loved to write the simple life of the rural people. Watch out for their work, rest and fun. He himself lived all his life in the village and, perhaps, it was alongside the people who are depicted in the pictures that his whole life had passed.
On this canvas, the author showed a simple girl. She is barefoot, in a light summer dress she stands on wooden decks near the stream and collects water. The villagers built something like rowing, so that the water rose, and did not have to bend over to the stream itself. The girl's head is covered with a white scarf, from which hang two large braids. With her hands, she holds the rocker on her shoulders.
Very beautiful nature surrounds this whole picture. Green fresh grass covered with drops of water. Large stalks of old willow, covered with young branches. Blue sky with passing clouds and sunlight illuminating a girl.
The picture leaves the warmest and most pleasant emotions and feelings. A beautiful girl among green nature looks very romantic, fascinating and inspiring. The author managed to convey all the beauty of nature and life that surrounded him.