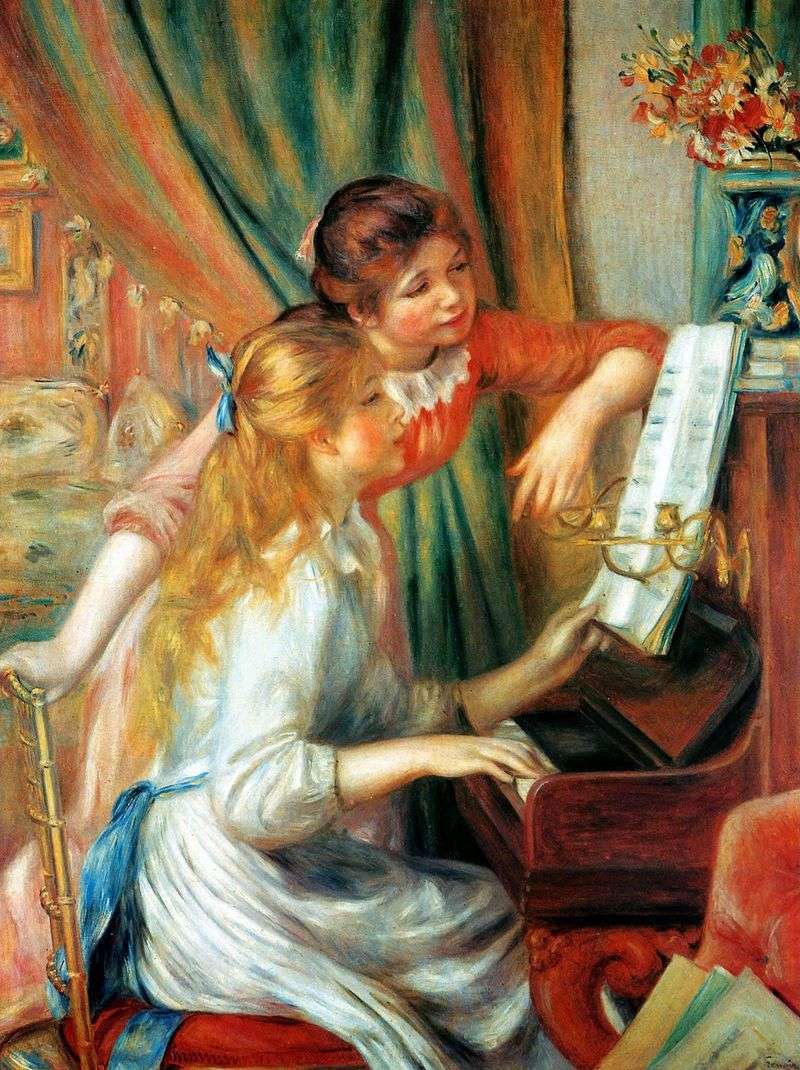 Toward the end of the 19th century, the long-awaited glory finally came to Renoir. His paintings begin to be exhibited and travel the world, and in 1900, the painter will even be awarded the title "Cavalier of the Order of the Legion of Honor."
In the meantime – in 1891, under the patronage of his friend the poet Stefan Mallarme, Renoir receives a state order to write a "new significant picture", which will be bought for the National Assembly after completion. The painter enthusiastically set to work, however, the work progressed slowly and painfully. Although the plot arose quickly in Renoir's head, his realization was hampered by an awareness of the responsibility and significance of the moment. This very fettered the creator, accustomed to thinking freely.
Two girls playing the piano – this is the new idea of Renoir. Currently, there are six works and many sketches and sketches that are stored in various museums of the world, and are vivid evidence of creative searches and efforts of the famous impressionist. Such a multivariate execution of the plot also created confusion in the titles. "Two Girls at the Piano," "Girls at the Piano," and even "Daughters of Lerol at the Piano," are some of the well-known names. The most complete version is in the Orsay Museum, the painter himself called it even "too complete."
The canvas presents us with a sentimental scene – two young girls leaned over the keys of the piano. The heroines are so passionate about their occupation that they do not notice anything around, they carefully peer at the notes, as if learning a new tune. We can notice the richly furnished room, but the color palette is such that such magnificence does not cause anyone's irritation to the viewer – muted pastel colors give the canvas pastorality and tranquility. Some critics have slandered, saying that this nice picture is the place on a box of chocolates. Indeed, the work is an excellent example of the display of the French bourgeois culture of the outgoing XIX century.
For the first time the picture was presented to the audience in 1892 and almost immediately was purchased by the Museum of the Luxembourg Garden. From the end of the 20s, it was on display in the Louvre, and in 1947 she moved to the Jeus De Poms National Museum until, in 1896, she acquired a permanent "registration place" in Paris in Orsay. One of the sketches for the picture can be seen in our homeland, in the State Hermitage Museum of St. Petersburg. This valuable acquisition came there from the collection of a German entrepreneur and collector after the elimination of his remarkable collection.