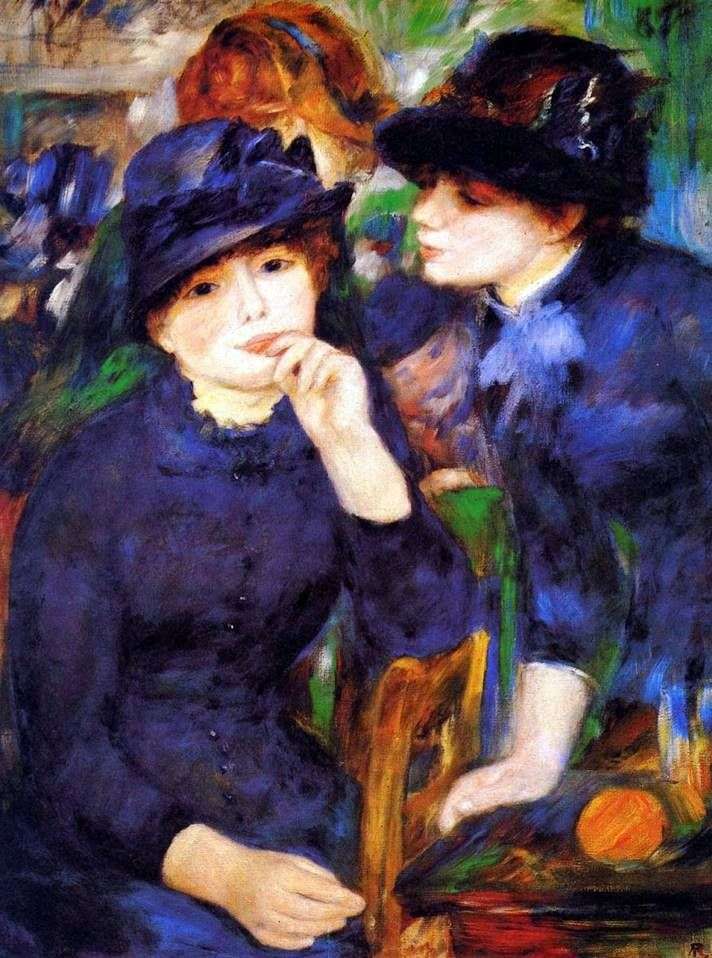 Impressionism, which had its origin in France, was not immediately understood and recognized in Europe, while our own, local philanthropists, at times, had a prophetic look, buying pictures that were set for a great future. One of these canvases "The Girls in Black" by Renoir, which turned out to be in the remarkable collection of the famous Moscow merchant and art connoisseur Sergey Shchukin.
Creation of the picture had to be a difficult period in the life of the painter – doubts about the artistic value of impressionist techniques began to visit him, and Renoir was in search of new means of expression. In this picture you can see that the master refuses short strokes in favor of local generalized color spectra. In this case, the paint was applied to the canvas in broad, calm and smooth strokes.
One can only guess what the heroines are depicted on the canvas, and why they are dressed in black clothes. Perhaps, it is gymnasium students in uniform, or young persons in mourning? Most likely, Renoir wanted to create an image of a "classic" Parisian woman. This is a young girl, charming, sweet, dreamy, romantic, but modest.
Two girls are depicted in different angles – one is seen in sufficient detail, her gaze is looking directly at the viewer, the other heroine is depicted in a half-turn and her appearance is devoid of individually pointed characteristics.
Renoir gave us his eyes on the two inhabitants of Montmartre snatched from the crowd, and one can only admire how beautiful the world around him seemed to him.
After the collection of Sergei Shchukin was nationalized, the picture found itself in the Museum of New Western Painting, there it remained until its reincarnation in the State Museum. Now romantic girls, dressed in black, are in the Pushkin Museum.