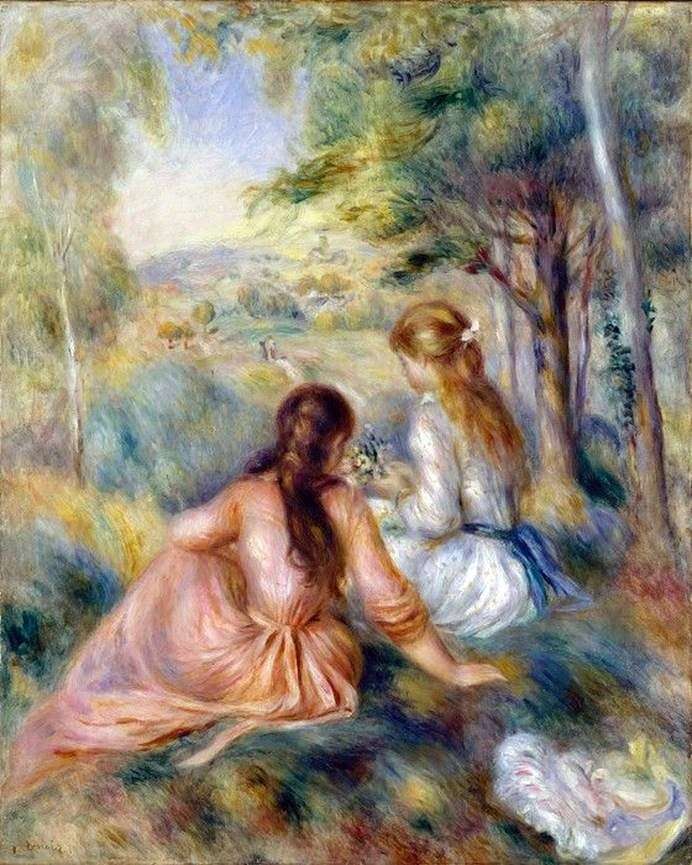 Pierre Auguste Renoir was one of those great painters who founded such a beautiful line of painting as impressionism. His repertoire contains many portraits of secular personalities, the life of French rich people, as well as many portraits of unknown, but such bright and different people.
In addition to people, Renoir painted landscapes, and most of all he was fascinated by the beauty of places quite far from the city. Every season the artist considered special and found in them beautiful features, be it spring bloom or the first snow, which delight the soul of almost everyone. Quite often, Pierre combined in his works the beauty of the natural with the female. An example of such work is the painting "On the Meadow", which depicts two young girls sitting in the middle of a small meadow and collecting a bouquet.
The painting "On the Meadow" was painted by the artist for about five years and was completed in 1895. This canvas without any doubt can be attributed to impressionism, it proves the technique of its writing. All objects in the picture look a bit blurry, but this does not make it less realistic.
The girls in the picture turned back to the observer. But even in this position, Renoir could depict them incredibly beautiful: thin waists, belted with colored ribbons, light and airy dresses, long wavy hair… Not far from one of the girls lies a carelessly thrown hat. Girlfriends enjoy nature and lead a heart-to-heart conversation with each other, collecting a beautiful bouquet of meadow flowers. If you look closely at the picture, in the distance you can see small silhouettes of people, but they look very blurry. Also in the background are the outlines of other colorful meadows.
Renoir has developed his own difficult technique, thanks to which dense oil paint, which is difficult to apply with a thin layer, looks so light on his paintings that sometimes resembles a watercolor. Masterfully applied strokes blend seamlessly into each other, as if dissolving into each other.
Pierre Renoir tried not to write pictures that could be the thoughts of the viewer. His paintings do not contain experiences and anxiety, on the contrary, they carry positive emotions in themselves, showing the charm of life and the world in which we live.
To date, this picture is stored in the Metropolitan Museum in New York.