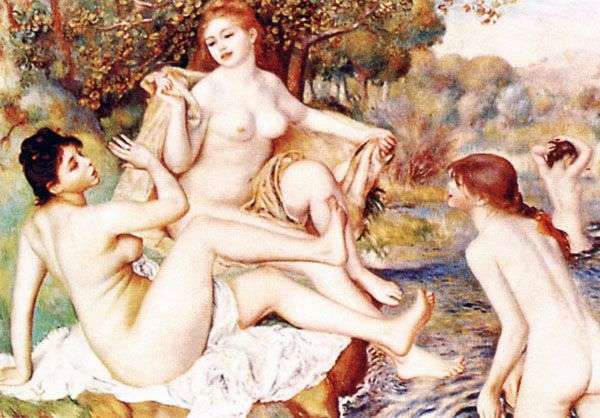 Renoir was one of the greatest masters of nude in the entire history of painting. He loved the female body and knew how to convey it vividly to the canvas. One of the famous jokes of Renoir: "I continue to work on the nude kind as long as I do not want to pinch the canvas."
However, nude became the leading theme in the work of Renoir not earlier than the mid-1880s. This happened after his return from Italy, where the artist was shocked by the ancient art and the art of the Renaissance, in which the image of the naked human body occupies one of the leading positions.
"Bathers" were written during this period. The "bather wiping a foot" refers to works of a later period, and the later "Bathers" were written in the style typical of the artist's last years. Although sometimes Renoir combines the image of nu with mythological plots, in general, he still prefers to write nature in a natural way, focusing all his attention not on the plot of the picture, but on form, color and texture.
In the last period of creativity, Gabriel Renard, his wife's cousin, first appeared in their home in 1895, became their favorite model of Renoir to nurse their first child, Jean. Gabriela's healthy, robust body was exactly the ideal that Renoir sought in women.