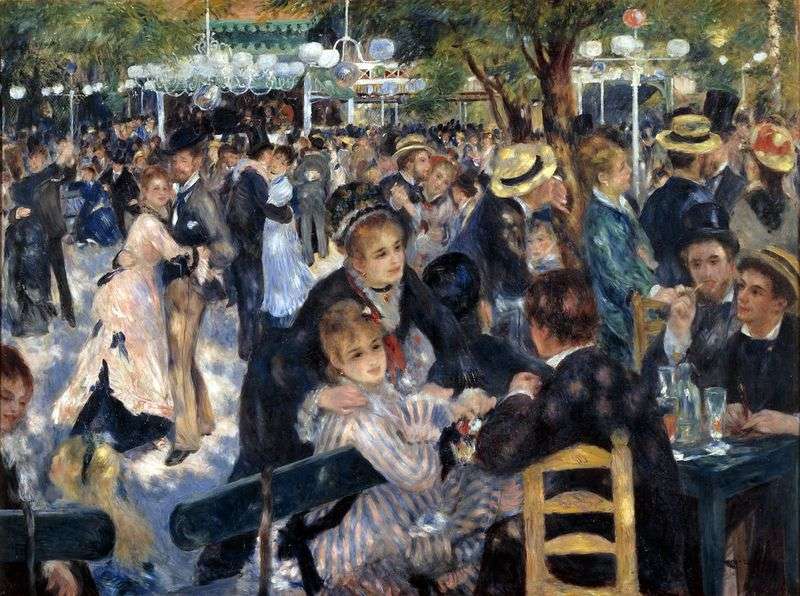 Pierre Auguste Renoir is "the only great artist who has not written a single sad picture in his life," asserted Octav Mirbeau in 1913. The Ball at Moulin de la Galette is the most vivid example of the painter's "sunny" art. The plot for her, Renoir found very close to the house, on the street Corto, in the eponymous restaurant "Moulin de la Galette", which was named because of the delicious biscuits, which were served here. Montmartre gradually overgrown residential areas.
Someone Monsieur Debre turned into a restaurant the last of the windmills on the top of Montrmart Hill that remained on a hill. Actually the dance hall was located in a wooden shed, painted in a bright green color. In good weather, the dancers went out into the courtyard, where there were benches and tables in a circle. In the evenings on Saturday and on Sundays, clerks from shops, seamstresses, young artists, writers, actresses and simply happy girls from Montmartre were going to dance at Moulin de la Galette. Renoir loved the fun and unpretentious atmosphere of the local tavern. Here he made his first sketches.
This atmosphere inspired Renoir, who was looking for an image saturated with light, to create his famous "Moulin de la Galette". In order to paint the figures in the open-air picture, one had to carry a large canvas into the garden, where the light, playing, passed through the foliage of the acacias, strewing the earth and clothes dancing with blue and pink highlights. To make the figures more realistic, many friends posed for the artist for this great composition. Three friends of the author are sitting at the table: Fran-Lamy, Genette and Georges Riviera. The pair on the left is Spanish painter Don Pdre Vidal de Solares and Cardenas and Mararita Legrand, favorite model of Legrand.
Among the dancers one can recognize the painter Henri Gervais, the journalist Paul Lot, the artist Frederic Corday. In the center, in the foreground, two sisters – Estelle and Jeanne, whom Renoir found in Montmartre. Georges Rivière, a friend and biographer of the artist, beautifully expressed the striking novelty of the painting: "It never occurred to anyone before Renoir to depict a piece of daily life in such a large canvas: this is a brave act that will reward deserved success." But not without hostile attacks.
Criticism, admiring the composition of the picture, at the same time, called it nonsense the image of people "dancing on the surface, similar to the purple clouds covering the sky during a thunderstorm." But years later, Gustave Geoffroy, the most astute defender of Impressionism, utters the most enthusiastic praise of the film: "Moulin de la Galette ball" is one of the most successful works based on direct observation and the use of light to create an atmosphere; it expresses both drunkenness by dance, and noise, and sunlight, and dust raised by dancers in the open air, and excitement on faces, relaxed postures, and rhythmic whirl of dresses, pink, light blue, dark blue, black; and an explosion of passion, unexpected sadness, sudden rage, pleasure and fatigue… "