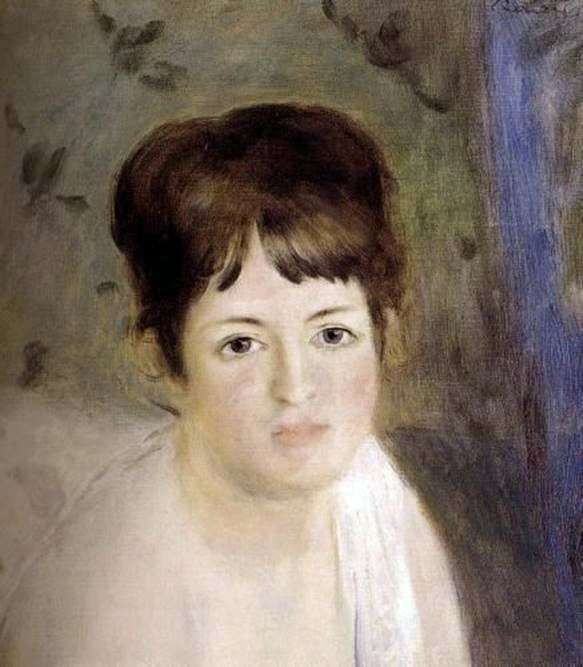 Another area in which the bright talent of the young painter was fully revealed was the portrait. True, Renoir did not try to reveal the depth of the image, to give a detailed psychological characteristic of a person. He wrote almost exclusively young women and children, seeking to convey the youth and beauty, freshness and charm of their models.
The "woman's head" is very characteristic in this respect. Perhaps, here we are dealing with one of the sketches for the painting "Bather," as indicated, in particular, by the towel on the shoulder of a young woman. In any case, this is undoubtedly the portrait work of Renoir: sketch of the head of a young model. She looks at the viewer with a calm but attentive, almost gaze.
Watching the facial expressions of a human face, Renoir seeks to capture the expression in his instant uniqueness, and thus confirms the impressionistic principle in portrait art. The composition is static and traditional – the model's head is placed in the center of an almost square canvas, however, it is depicted in a slight tilt, and the turn of the model's shoulders gives the figure the necessary movement. The picture is painted in white and pink "melting" tones on the background of the Berlin Prussian blue turning into green.
Remarkable is the painting of this small masterpiece of Renoir: thin, translucent, like watercolor, smears create the impression of matter, ready to dissolve in the surrounding atmosphere. The picturesque system contributes to the creation of a charming in its immediacy, typically "Renoir's" image. "The head of a woman" belongs to the best works of this artist in Russia. In the Hermitage, the painting entered in 1935 from the State Museum of New Western Art in Moscow.