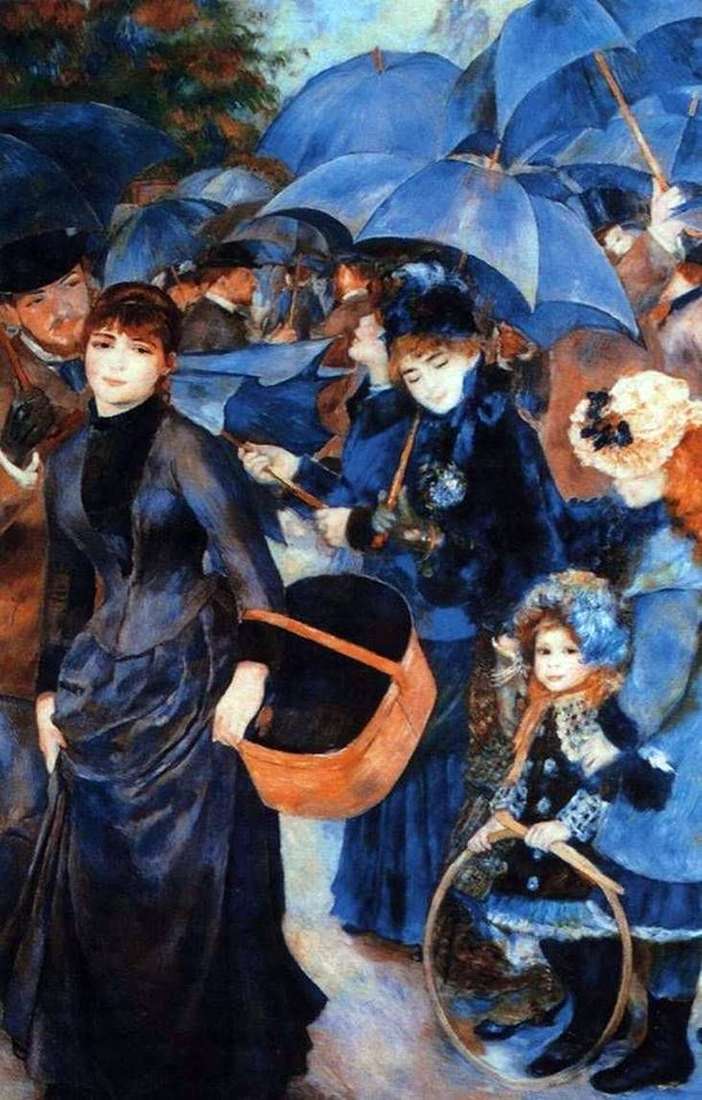 The famous canvas Umbrellas was painted by the artist in 1881-1886, after his return from Italy. The impact of Italian impressions can be explained more clearly than the contours depicted. In all other respects, this is a typical work of Renoir, a master who cannot be confused with anyone.
Renoir worked on this picture for a number of years, just at the time when cardinal changes occurred in his writing style. He began this picture shortly before leaving for Italy, where he was in the years 1881-1882, but the work remained unfinished for a minimum of five years.
A detailed study of the styles shows that the dresses on the women on the right side of the picture correspond to the fashion of 1881, and the dress on the woman to the left – the fashion of 1886. There are also differences in the color of these parts of the picture.
The figures of two girls standing on the right side of the picture are written in soft, airy strokes characteristic of Renoir-impressionist, and the figures on the left side of the canvas are already in a different style, more concrete, clearly showing the influence that the artist had on studying the samples of classical art and art of the Renaissance, with whom he met in Italy.
Despite these differences, the picture looks very solid and is considered one of the most famous works of Renoir – original by design and filled with vivid, bright details. This picture was the last large canvas on which Renoir depicted a scene from his modern life. After that, he turned to more "eternal" topics.