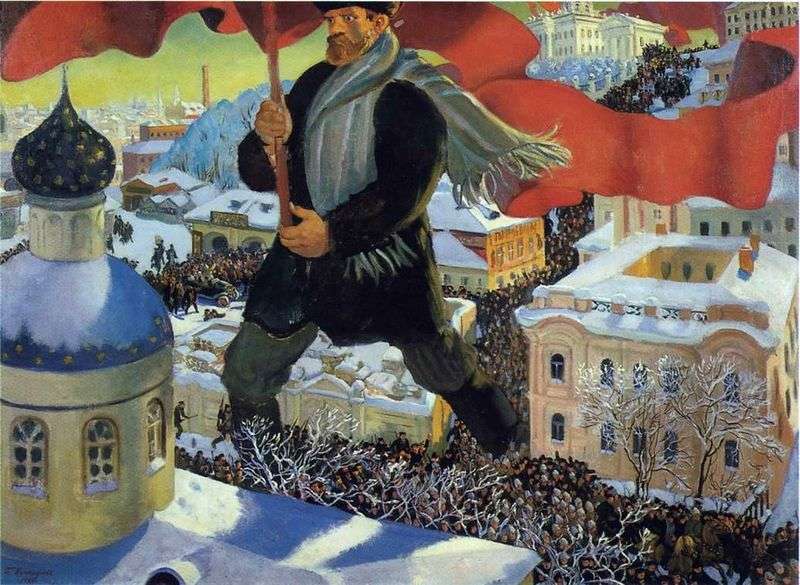 Kustodiyev from the first days of the revolution was actively involved with his work in the ranks of artists who took October. His canvases "Stepan Razin", "Bolshevik", "Holiday of the II Congress of the Comintern" and many others, written in the first years of Soviet power, are now considered classics.
And his famous "Bolshevik" is unique in its heroic elation and magnificent symbolism and, perhaps, is one of the best plastic embodiments of the revolution in all the past years. "Bolshevik" – a picture that adorns the exposure of the Tretyakov Gallery today. One of the very first and, perhaps, the best canvases painting the new master of Russia is the people who accomplished the Great October. The composition of the landscape as it continues "February of the 17th year." Winter, snow, sun, blue shadows. But how much the quality of the movement in the picture has changed: instead of the spontaneous impulse of "February" – the chased step of a million-strong crowd that scored the city streets to the full. At the head of the people, above the houses and stellar heads of churches – a worker carrying a giant crimson rod.
The figure of the giant as it grows out of the thick of the people, its step is huge, the march is invincible. The colors of the canvas are victorious: It is difficult to believe, if you look at the reproduction of a painting, that it is a canvas of only one and a half meters width: the rhythm of the work is so monumental and symphonic.