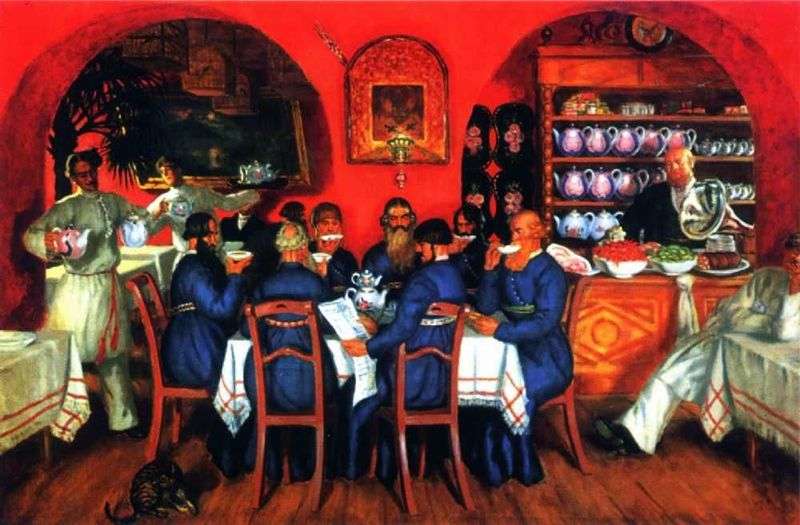 In 1915, Kustodiev visited Moscow. He wandered around the city, made sketches. V. Lugsky, the Moscow Art Theater actor, was his constant companion. On the verbal auction at the Spasskaya Tower there was a tavern, a favorite resting place of cab drivers. They drank tea here. Kustodiyeva was fascinated by the idea to paint the picture "Tea Drinking". So was born "Moscow tavern". Here is what the artist's son, Cyril, poses for him for this picture: "The father first wrote the background, then proceeded to the figures.
At the same time, he told how cab drivers, dressed in blue kaftans, were eagerly drinking tea. They held on decorously, calmly, called up, without haste, of sex, and he ran "flying" with a teapot. They drank hot tea a lot – there was a strong frost outside, they kept a saucer on their outstretched fingers. They drank, burning, blowing on a saucer with tea. The conversation was conducted in the same grand manner, without haste. Some of them read newspapers, he got drunk, warmed up, now he is resting. My father said: "So I want to convey all this.
Blowing from them something Novgorod – an icon, a fresco. Everything is on the Novgorodian way – the red background, the eggs are red, almost the same color as the red walls – so they should be written, as on Nicholas the Wonderworker – glare. But the four-bump samovar should shine. The main appetizer is raki. "He says, and I am posing for him at this time, wearing a Russian shirt, in one case with a teapot, in the other – having fallen asleep at the table, I depicted sex animals. He also posed for V. R. Kastalsky for an old cab driver. The similarity, of course, is very approximate, as the father tried to faithfully convey the image of the "rakish", his manner of holding a newspaper, his hands, his beard.
Boris Mikhailovich was very pleased with his work. "But, in my opinion, the picture came out! The color is, the iconiness and the characteristics of the cab drivers have turned out. Aw, well done, your father!" – laughing laughingly, he praised himself jokingly, and I unwittingly joined his fun. "Kustodiyev is a true folk painter. He dreamed that clubs would be built for the people someday. culture in the form of beautiful buildings, painted with magnificent panels: "Well, here, at least as in Venice, in the Palazzo Labia, the work of Tiepolo. There it is done for the gentlemen, and in our country it will be done for the people of Russia. "
And how inexpressibly he was when the palaces on Kamenny Island, which formerly belonged to the Petersburg nobility, were placed under the rest houses of the working people by the decree of V. I. Lenin… He said to me: "You are happy, you will live and see all the beauty of life to come and in life the most important thing is work and the right to rest after work. This has been conquered by the people themselves, it has never happened before, it was difficult to live, humiliating and disgusting. "