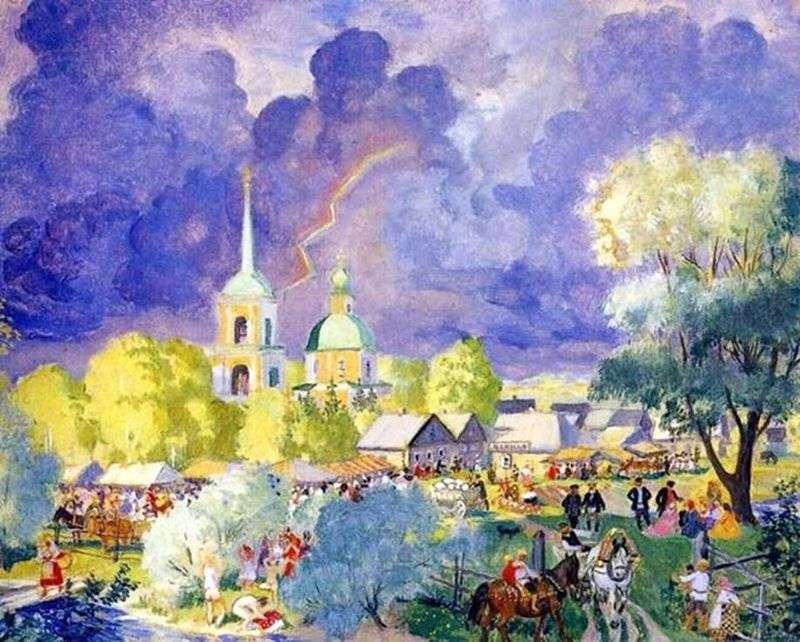 The life of Boris Kustodiev was not easy: a serious illness and the subsequent operation on the spinal cord chained him to a wheelchair. For about fifteen years the artist spent in a wheelchair, tormented by constant pain. Perhaps that is why his paintings are imbued with the most light and joyful emotions.
The work "Thunderstorm" was no exception to this rule. The painting depicts a small provincial town. One can see the golden domes of the church, the everyday life of the town is depicted – people go about their business.
Carefully written little things in the picture add to her a greater degree of realism. Carefully, with love, various, everyday characters are written – an elderly woman at the fence, a girl washing clothes, a woman running across a bridge with a basket in her hands, and other equally bright figures. Many horses and carts harnessed by carts say that a fair has recently been held at this place and is now going on the road.
Lightning bursts into the calm, measured mood of the picture, beating into the golden dome of the church. A thunderstorm will soon begin, but people seem to not notice this, they are sure that they will have time to hide before the start of bad weather, and go about their business.
The canvas "Thunderstorm" is written in the traditional style of Kustodiev. Pastel was used to muffle the colors of the earth and human figures, while the sky was written in oil. The Thunderstorm is an excellent example of the successful combination of Russian traditionalism with new trends at the time – impressionism and modern.