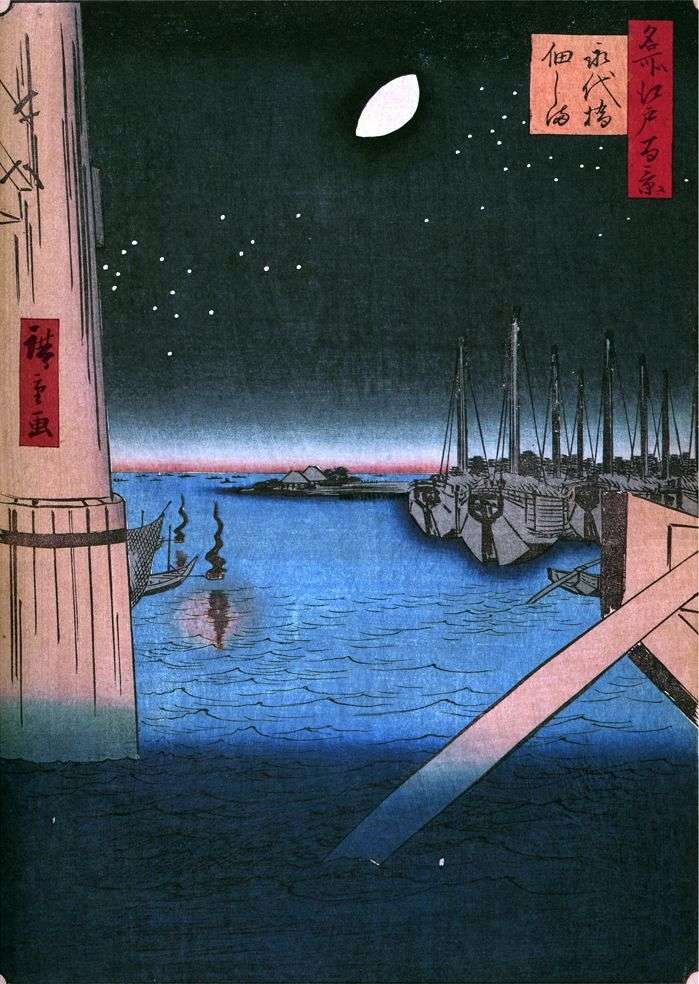 Bridge Eitaybashi, built in 1698, was located in the lower reaches of the Sumidagawa River, between Hakozaki and Sagate. The island of Tsukudajima, visible on the horizon, was inundated. It was poured by fishermen from the village of Tsukud by order of the military government – bakufu. The name of this village was given to the island. In the waters near the island there was a fish of sirauo, which was caught from November to March.
Catching of fish took place at night. On boats, lights were lit and fished with nets. The fire from the boats could be seen from afar. This engraving depicts night fishing under the bridge of Eitibashi, whose support is visible to the left. In the foreground is the shadow from the bridge, but the closer to the open sea, the color becomes brighter. And the moon shines over the sea. The bridge support and the paddle boat in the foreground are depicted through a layer of water. The surface of the river flickers, reflecting the stars and the light of the lights on the boats. In the depths, at the horizon – a red strip of sunset.
Hiroshige has few pictures depicting a moonlit night. This engraving is one of the most successful in this series. The dark foreground on the sheet from the late series gives the engraving a mystery and a special emotional coloring. The moon and stars stand out against a background of almost black sky. The horizon line is highlighted, which increases the space of the engraving.