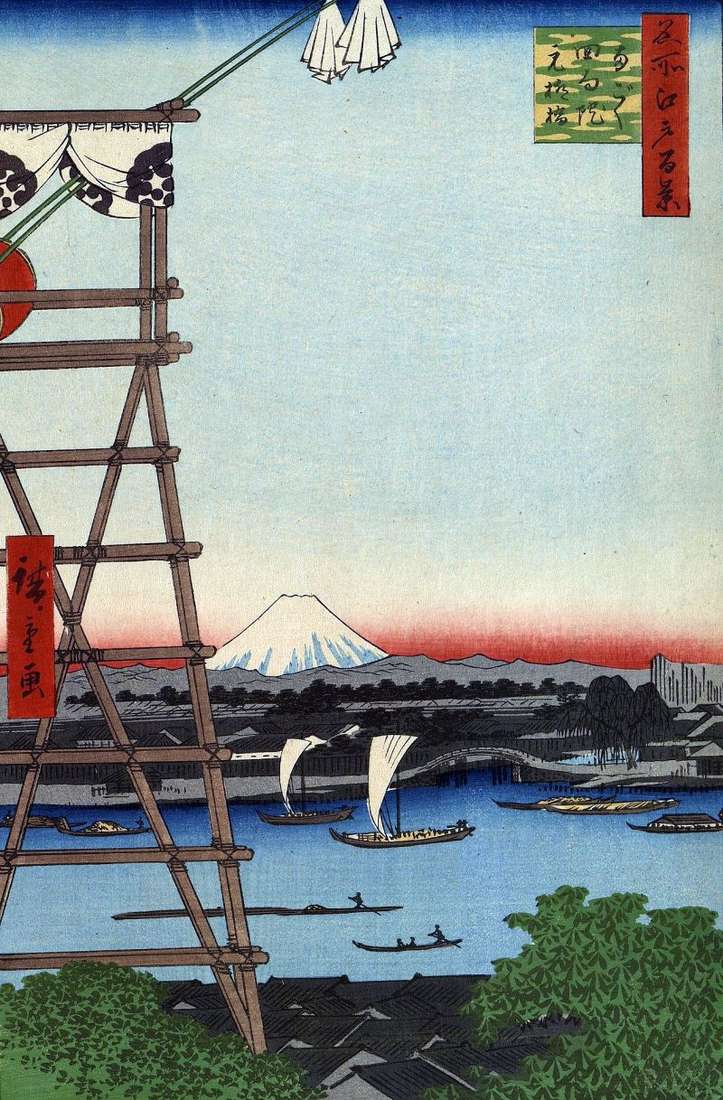 The history of the creation of the Ekoin monastery is associated with the fire in Edo in 1657. During the fire that raged two days, nearly 100,000 people died. It was impossible to get to the Asa-kusamitsuke bridge, and many drowned in the waters of Sumidagawa. Subsequently, in order to prevent such a situation, the Regokubasi bridge was built. The monastery of Ekoin was erected on the orders of the Shogun Iehun in the west of the Regoku Bridge, there were buried those who did not have relatives who carried out funeral services for them.
"Ekoin" in translation means: Temple of memorial services. The bridge on the other side of the river was named Moto-Yanagibashi, which means "genuine willow bridge", because another bridge was built to the north by Yanagabashi. The engraving of Hiroshige depicts on the left a drum tower located on the territory of the Ekoin monastery, with a red drum on its left and two poles with white cloths.
Next was a doha ring for sumo. In good weather, the competition lasted ten days. Women could watch wrestling matches only on the last day of the competition. Like all sheets of the late series, this engraving is made in more saturated colors. In addition, the square cartouche with the name of the terrain in the later version became multicolored. The bokasi line runs along both banks of the river.