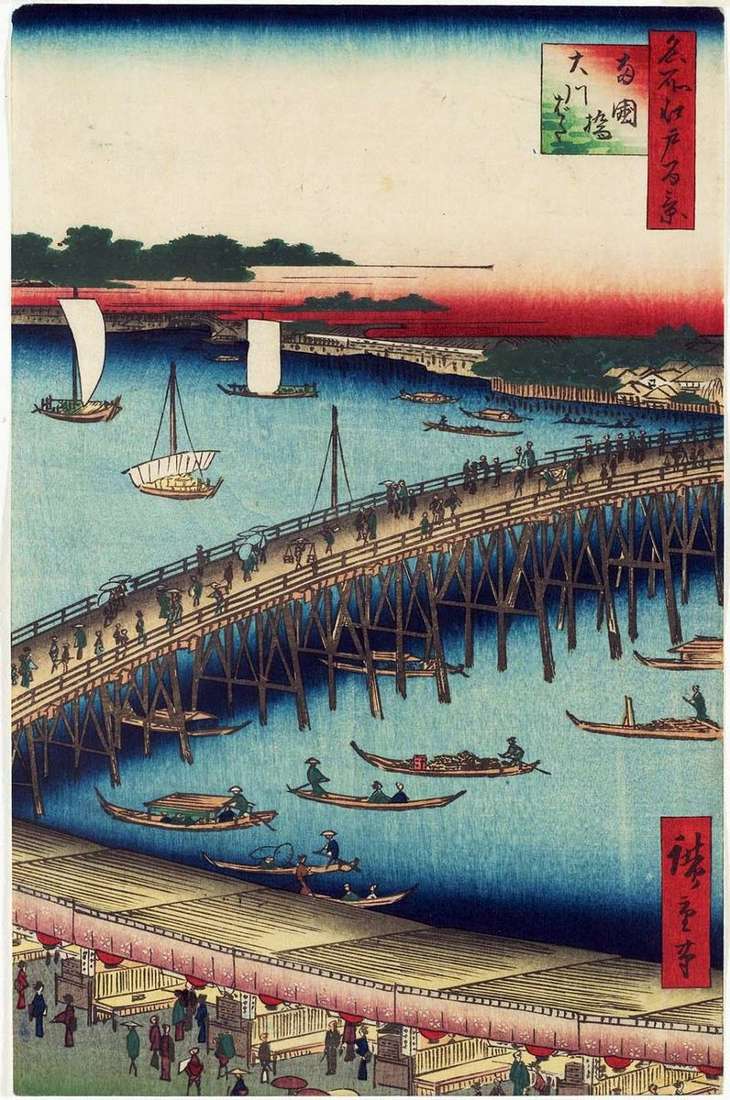 After a major fire "Nakasode", which occurred in 1657, one of the main bridges of the Eastern capital – "Ohashi" was built. But the name of Regokubashi, the Bridge of the two provinces, soon followed, as he connected the provinces Musashi no kuni and Simosa no kuni, separated by the Sumidagawa River. The bridge of Regokubasi became one of the most popular places of entertainment in Edo. On the western shore, numerous tea pavilions, restaurants, small theatrical grounds, archery areas appeared.
Rows of tea houses stretching along the street leading to the bridge, the viewer sees in the engraving in the foreground. On the other side of the river there is a Khondze district, along which a lot of wooden piles were driven into the bottom – they served as breakwaters. This shore was called Khyapongi. Next, the houses of the Daimyo are visible, and on the left side of the sheet, in the background, the Godzobashi Bridge is depicted.
The Sumidagawa River was an important transport artery, cargo and passenger boats swim up and down it. In addition to the brighter overall tone of the late sheet, a dark blue strip appears in it, passing under the bridge of Regokubashi. The strip at the top edge of the engraving also becomes dark blue. The color of the strip of stylized clouds also increases, in addition, it increases.