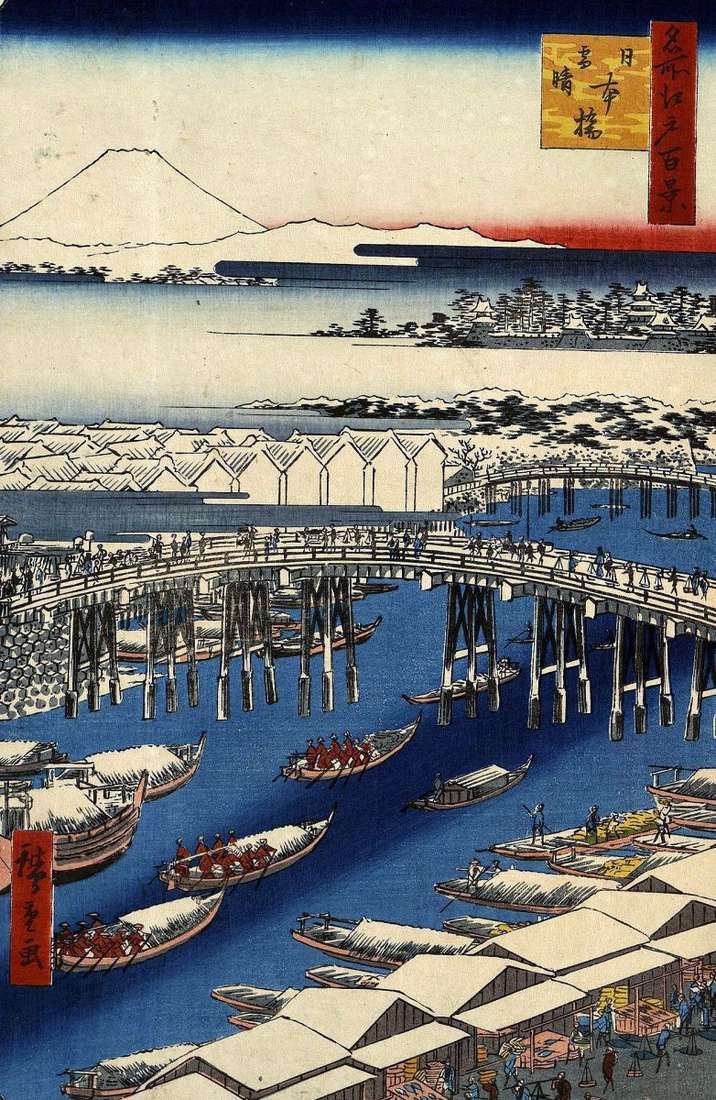 Hiroshige began his series "One hundred views of Edo" from the image of the snow-covered Nihonbashi bridge. The engraving shows the northern, so-called "fish bank", between the Nihonbashi and Edobashi bridges. The Nihonbashi Bridge was in the center of Edo and was the zero point of reference for the distance to various parts of Japan. The river under the bridge – Nihonbasigawa, formerly called the Khara, flowed into the Gulf of Edo.
Edo was a large shopping center, where ships were delivered goods along the river. The coast at the Nihonbashi bridge became a port, a market, a wholesale warehouse city. Above the bridge of Nihonbashi were the bridges of Ikkoku and Yaiumi. In this first sheet of the series there are all the symbols of Japan – Mount Fuji, Nihonbashi Bridge and Edo Castle. A clear winter morning, the clouds are colored by the light of the rising sun.
In the foreground – the "fish bank" in all its details: fresh fish are laid out, hawkers, buying it out, and peddlers are scurrying. On the left are visible white walls of warehouses – it is a symbol of the capital, a sign of wealth of citizens. On the bridge Nihonbasi daimyo with servants are sent to Kyoto. In the original version, the red glow of the sunrise was decided in bright yellow tones, and the strip of bokasi, passing along the center of the river, was mixed to its shores and was not blue-black, as in the more recent version.