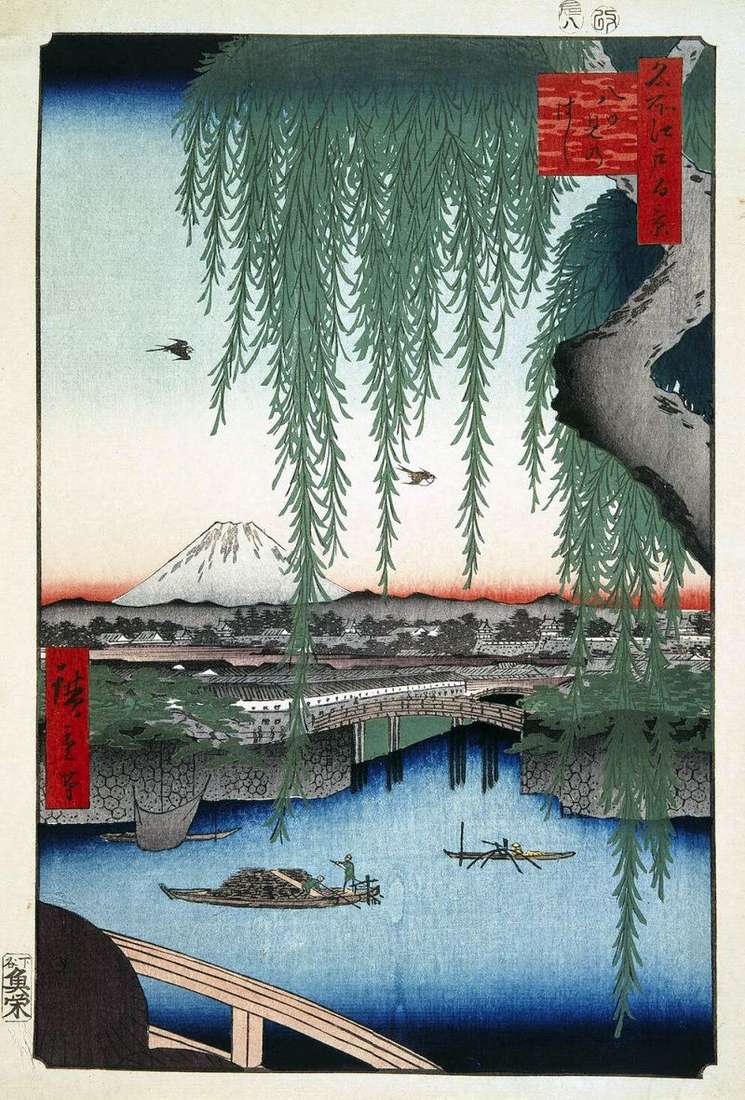 The Yatsumi-no hasi bridge is translated as "The Bridge of Eight Kinds," the figure eight denotes the multiplicity of something, which means that species can be opened in any direction. Hiroshige shows only one – a panorama with the Edo Castle, the mansions of the Daimyo on the left and two bridges – Azenikibaisi and Dosanbasi. But from this place it was possible to see all eight bridges, this is another meaning of the name Yatsumi-no hasi. This bridge is still known as the bridge of Ikkokubashi, it stood at the confluence of the river Nihonbasigawa and the channel leading to the castle of Edo.
The engraving shows only the upper part of its handrails, and a large crowd is only indicated by the tips of the umbrellas of passers-by walking closely: it has always been crowded. Perhaps, therefore, on one of the sides of the bridge a sign with information about the lost children was installed. In the foreground there is an oak branch of willow. There are two boats on the river, one carries firewood on one, and nets on the other. In the center, in the distance you can see Edodze's castle, above which, on the horizon, stands Fujiyama. Swallows are floating in the summer sky.
In comparison of these two sheets, early and late, one can note the overall colorful saturation of the later version. Thin gradations of the color of the first variant of the impression become somewhat rougher in the following.