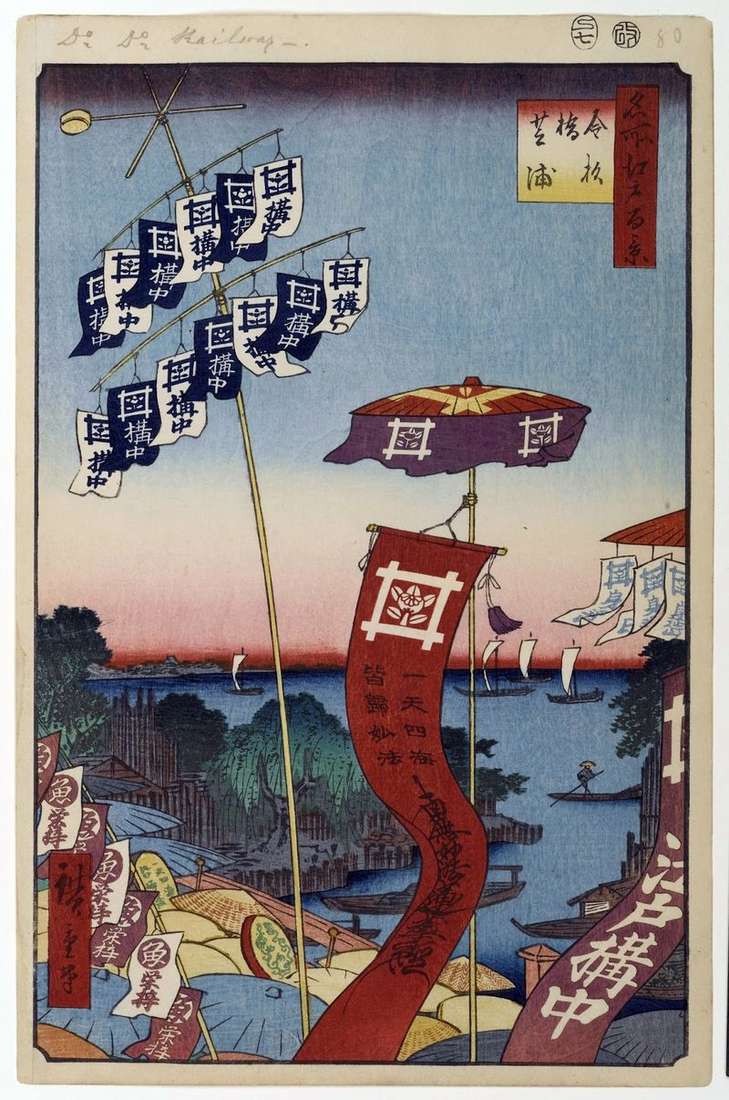 Siba is a coastal region stretching from the bridge of Siodobebasi in the north to the Takanava district in the south. The river Furukawa in this place changed its name to Kanasugigawa. At the intersection of the Tokaido road and the mouth of the Furukawa was the Kanasugibasi bridge. Previously, there was a shoal of Kanasugidzaki, which supplied Edo with fresh fish, and she gave the name of the whole area. In the engraving, the edges of the rails of the Kanasugibashi Bridge are visible. In the distance one can see the roof of Tsukiji Honganji Temple. The bridge is crossed by visitors to the Hommondzi temple.
Every year, from October 10 to October 13, a ceremony dedicated to the death of Nitiran, the founder of the Nitirensu sect, was held in this temple. In the foreground there are high poles, which are carried by pilgrims. On the bamboo stick on the left – towels – tanuguri, on which the hieroglyph Nitirenshu is inscribed. It is preceded by a sign of a religious association consisting of the first hieroglyph of the word "well", with a pattern in the form of a mandarin branch inside it. On the right is a lantern in the shape of an umbrella and a flag with the words of the lotus sutra.
On the pole in the left-hand corner is the name of the publisher of the Woya Eikichi series. In later editions of this sheet, the entire color tone intensifies, it becomes brighter and more expressive. In addition, the color of the tanuguri towels hanging on the bamboo stick on the left changes from red to blue.