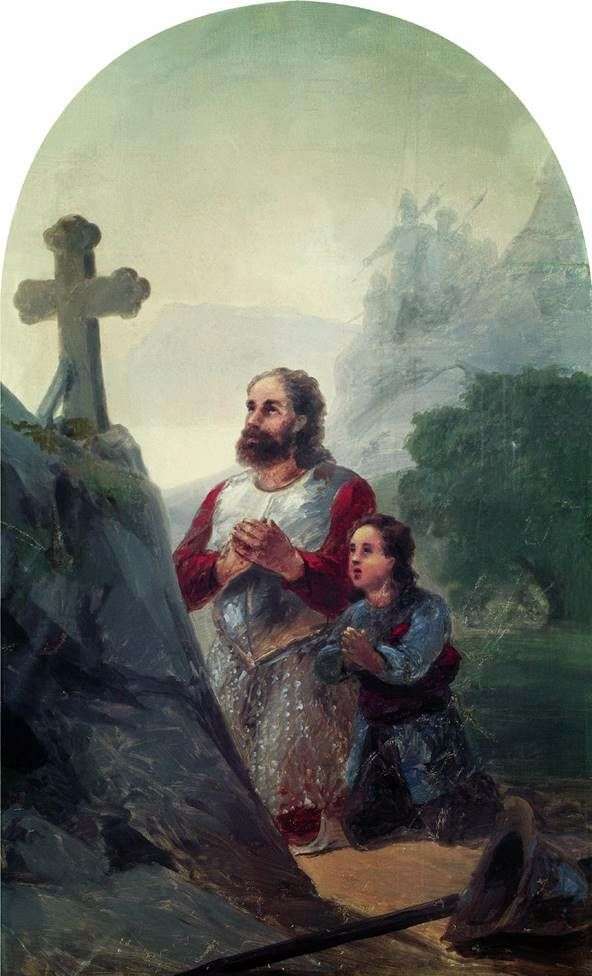 Ivan Aivazovsky was born into an Armenian family in Feodosia. Therefore, the destiny of the Armenian people and its history have always interested the artist. In his work there are works related to Armenia, one of which is the picture "Oath before the battle of Avaraira." One of the greatest battles in the history of Armenia is the Avaraira battle. Vartan Mamikonyan was the leader of the Armenian army, who met at the Avarayr field with the Sassanid Persian army, three times the number of Armenians in number.
The result of the battle was the defeat of the Armenian army, and Vardan Mamikonyan died in this battle. In the picture "Oath before the battle of Avarayr" is represented the moment when Vartan with a young boy pray before the cross. A tragic battle awaits them. Armenians fought for the right to remain Christians, and despite the defeat they won this right. Aivazovsky through such a detail as a cross emphasizes the Orthodox faith of the Armenian people. The cross is located on a low cliff. The worshipers stand on their knees, folding their hands together, and quietly whisper a prayer. The commander is dressed in military armor, his helmet and spear lie nearby. The last time they read this prayer. Their bright faces are filled with entreaty and a petition to God for the victorious end of the battle.
In the background, you can see a bright blue sky, which adds holiness in the picture, prodigal misty mountains and dark wood. It is this tree, like a dark shadow, that reminds us of the tragic end of the battle. The artist specifically chooses the rectangular format of the picture with a semicircular completion at the top – this makes the picture look like an icon. But after all, Vartan Mamikonian is still revered as a church by the church, as a great military leader, who gave his life in the struggle for the Christian faith. In this work, romantic motifs are clearly visible, therefore this picture can be called a majestic and emotional masterpiece.